Do You Know how to Design Stone Production Line?
Date: Mar 23,2014
Currently, domestic construction industry is in the period of great strides forward. More and more investors begin to invest stone production line. However, when investing stone production line, many investors don't know how to design a proper stone production line. Here, Hongxing Machinery will analyze how to design stone production line.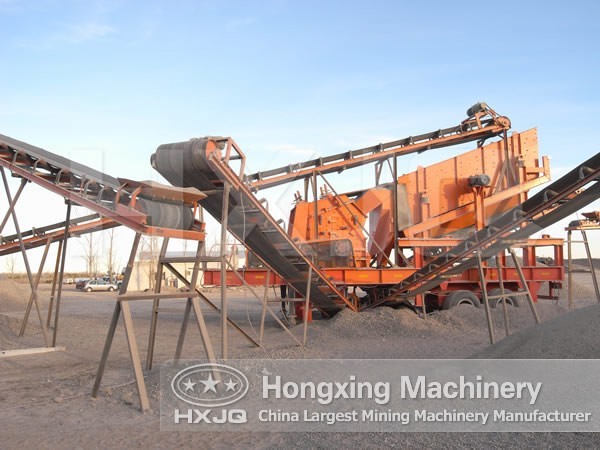 Hongxing Machinery is a professional manufacturer of stone production line. The mining equipment produced by our company has been widely applied to stone production line and artificial sand making production line in various regions. According to some cases of production line in various regions, Hongxing Machinery has summarized main matters needing attention when designing stone production line.
1. Save cost. If a set of crusher machine can complete crushing work, resolutely do not use two sets. Because each additional crushing equipment should be equipped with circular vibrating screen, belt conveyor and other corollary equipment, which directly brings not only purchase cost, but the consumption of wearing parts and power consumption of motor generated in later running process, thus greatly increasing budget of investors.
2. Select proper crushing equipment according to different characteristics of different stones. Hardness of stone is main factor determining selection of crushing equipment. For example, if you use impact crusher to crush granite, the results cannot be anything but endless replacement of plate hammer and huge purchase cost of wearing parts. On the contrary, using HPC cone crusher can not only save huge cost, but greatly improve output. Hence, it can be seen that the importance of selecting proper crushing equipment.
3. If the budget allows, select the manufacturers with rich experience of production and configuration of stone production lines as far as possible. After all, the higher the price, the higher the quality. Unreasonable previous deign can lead to low output of stone production lines.
After more than 30 years of development, Hongxing Machinery has become domestic first-class manufacturer of crushing and screening equipment and international group company integrating research, production and sales of industrial grinding equipment, which is also a provider of Chinese leading ore processing equipment and system solutions. Hongxing Machinery welcome various investors to our company for on-the-spot investigation.