Tip:
If you would like more information about this product, or consult our product quotation, you can leave us a message at the bottom of the page( or click send inquiry directly to the bottom). We will get in touch with you within one business day, your message content will be strictly confidential.
Pendulum Feeder is always used as the feeding equipment for ball mill and belt conveyor. Pendulum feeder machine is suitable for feeding granular materials from the hopper to all types of receiving devices in mineral processing, coal, chemicals and other sectors. Ore Feeder is not suitable for delivery of dry powder or large granular material, because it will cause dust pollution and clog for discharging port.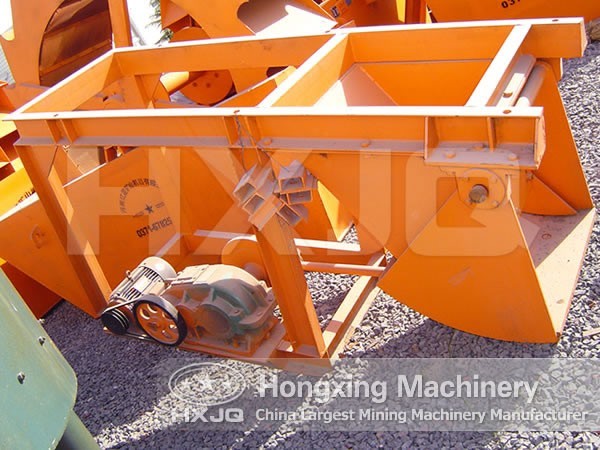 Working principle of pendulum feeder
After starting the motor, the power will be passed to the gear reducer through V-belt. The power has been reduced will be transmitted to the eccentric with adjustable eccentricity (adjust the position of the eccentric according to the ore size), and then to the eccentric rod, to drive the pendulum plate to do arc swing. The ores in the ore storage bin of the upper feeder will be passed through the feeder body cavity, and discharged uniformly through the feeding port, so as to ensure the uniform feeding and production of ball mill.
Operation rules
Full-time personnel should be familiar with the ore feeder machine, comply with the regulations on operation and maintenance;
Professional operator should carefully check the machine before starting work, check whether the bolts in various parts loose;
The opening of machine should follow the processing system order, load start-up is prohibited;
Frequently check load conditions, appropriate feed materials, and check the bearing temperature;
After stopping working, operator should clear up surface of feeder machine; and its working environment.