Tip:
If you would like more information about this product, or consult our product quotation, you can leave us a message at the bottom of the page( or click send inquiry directly to the bottom). We will get in touch with you within one business day, your message content will be strictly confidential.
Complete set of sand production line is composed of jaw crusher, sand maker, sand wahser, vibrating screen and belt conveyor. According to different technical requirements, Hongxing company can configure appropriate type for customers to exert the best performance.
1. The production process of sand production line
First, stones are sent into jaw crusher for coarse crushing; second, the coarse materials are sent into fine crusher by belt conveyor for further breaking; then, the stones that meet requirement on feeding size of sand making machine are sent into sand maker, and the other stones are sent back to fine crusher for re-crushing; the part of stones sent into sand maker are shaped into finished sand, and the others are back to sand maker for re-crushing until they meet demands.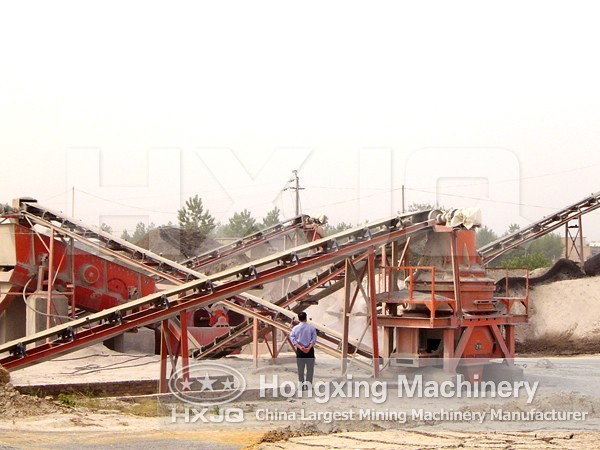 2. Performance characteristics of sand production line
This production line has high automation degree, low operation cost, high crushing rate, large output, less pollution and easy maintenance; mechanism sand produced by the line conforms to the national building standards, with uniform granularity, good grain shape and reasonable gradation.
Configuration of sand making production line is largely determined basing on the requirements of users on specifications, production capacity as well as stone usage; we provide comprehensive pre-sale, sale, after-sale services relying on customer's production site and strive to provide customers with the most logical and most economical production line.