Efficient Sand Maker Has Wide Application Prospect in the Market
Date: Aug 24,2014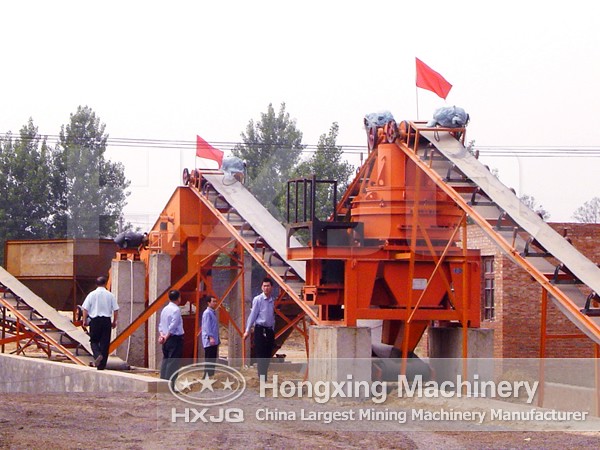 The new efficient sand making machine is the perfect combination of all the sand making equipment technology. The principle of high efficiency sand maker adopts unique design and vertical shaft. By accelerating the collision attack of materials, it can achieve the crushing, friction and plastic of materials, thus ensuring the structural stability and perfect grain type of finished sand. Sand maker is the key equipment for the production of high quality sand aggregates, and the aggregate quality directly affects the quality of infrastructure engineering. But for a long time, the overall technical level of sand machine is not high, the rigorous technical and quality on the market more and more requirements, which requires the innovation of sand making machine manufacturing industry in China. We should increase the R & D of sand making technology as well as the investment, in order to meet the high standard and requirements of the market.
Sand maker has wide usage in the river gravel crushing field. River gravel is a very commonly used sand raw material, which has high hardness, strong wear and corrosion resistance. It is used in many large projects as the high quality building materials aggregates. However, these characteristics of river gravel also determines the high energy consumption of common sand making equipment, which results in the increasing cost of the machine. Hongxing efficient sand making machine adopts the crushing principle of 'stone hits stone,' to reduce wear and tear on the equipment, which can greatly improve the sand making efficiency and reduce the production investment with freely transformation of the two devices.
Henan Hongxing Mining Machinery Co., Ltd. is one of the large-scale mining equipment manufacturers in Zhengzhou, which is integrated with production, sales, design and installation. We are specialized in R & D and manufacturing of stone crusher, impact crusher, sand making machine, the third generation of efficient sand making machine, vertical shaft impact crusher and sand making line, which present the outstanding performance in energy saving, high yield, low energy consumption aspects in China. Customers are warmly welcomed to visit us!