The Basic Requirements for the Purchase of Flotation Machine
Date: Aug 17,2014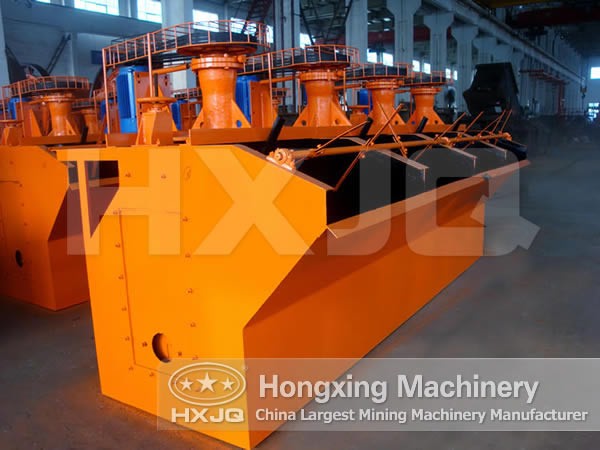 In the flotation process, flotation machine is the basic equipment for the flotation and separation of minerals. Like other machines, in addition to guarantee the reliable work, wear resistance, power saving, low price and easy manufacturing properties of flotation machine, it needs to meet the special needs of the flotation process. Here are the basic requirements for the purchase of flotation machine:
1. Flotation machine must have a circular flow.
The circulating of pulp in the flotation machine can increase the contact opportunities between particles and bubbles.
2. Flotation machine must have a good effect of inflation.
The flotation machine must ensure that the slurry can absorb enough amount of air (the external pressure of some flotation machines are pressed by the fan) and try to diffuse throughout the whole groove. Because the air is more uniform with fine dispersion, so that the particle and gas saturation opportunities can have more contact opportunities, and its flotation efficiency is also higher.
3. Flotation machine must be able to adjust the liquid level and it can work continuously.
In the flotation process, it sometimes needs to adjust the thickness of the foam layer and slurry flow rate. From the feeding, the flotation of concentrate to the discharging of tailings is the continuous process.
4. Flotation machine must have the stirring effect.
Flotation machine have to ensure the mixing effect on the pulp, so that the particle will not in precipitation state but in suspension state, which can be evenly distributed in the groove. At the same time, it can promote some insoluble drug dissolution, so as to contribute the full reaction between agents and mineral particles.
Hongxing Machinery is an experienced manufacture of flotation machine, in addition to agitation flotation machine and mechanical flotation machine, we also produce froth flotation machine and copper ore flotation machine. The flotation machine of our company has favorable price, high performance and complete after-sales service. Customers are welcomed to pay a visit to our company!