Development Trend of Impact Crusher in International Market
Date: Aug 22,2013
HXVSI series highly efficient vertical shaft impact crusher is the third generation sand making equipment with advanced technical level and high performance and it is designed by introducing the latest researching achievement of the authoritative experts of Germany and combining with the domestic mining situation. The machine can provide high-quality sand aggregates for highway, high-speed railway, high-rise buildings, municipal construction, hydropower dam constructions and concrete mixing plant and it is the first choice in artificial sand making and stone reshaping industry.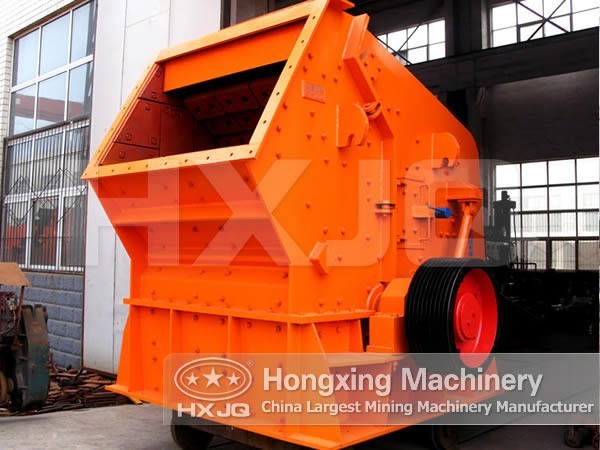 Impact crusher was first developed in our country in the late 1950s, but before the 1980s, domestic impact crusher is confined to deal with medium hard materials such as coal and limestone. It was not until the late 1980s when Henan Hongxing Mining Machinery Co., Ltd. introduced KHD type hard rock impact crusher that eventually filled this blank, but the manufacturing technology still lagged behind foreign countries for more than 20 years. Because impact crusher adopts impact principle in materials crushing, its parts including hammer head, plate hammer, counterattack plate wear very quickly during the use process. This defect limits the application scope of impact crusher for quite a long time and it can only be used for crushing medium hard materials. After many years of practical experience, Hongxing Machinery uses advanced and reliable double-pump oil lubrication system to make sure that the main shaft bearing have low temperature rise, long service life, and reliable operation and extended its maintenance cycle. The application of new wear-resisting materials breaks the limitation.
Among the five commonly used crushing machines, impact crusher has the following features compared with the crushers that crush materials relying on impacting and squeezing force such as jaw crusher, cone crusher and roll crusher:
A. Big crushing ratio
The crushing ratio of impact crusher can reach more than 50, while that of jaw crusher, cone crusher, and roller crusher is very difficult to reach more than 20. Thus in occasions of single stage crushing, for example the crushing of limestone in cement industry, impact crusher is widely used.
B. Good particle size
Under the impacting force, materials often crush along its most vulnerable levels. Adopting this selective crushing method, the ratio of cube particles is higher, so the content of flaky particles can be below 10%, while that of jaw crusher, cone crusher, roller crusher and other crushers is higher than 15%. Therefore, in some occasions that need cube particles, impact crusher is usually used as the final crushing equipment to produce concrete aggregate.