Hongxing Explains the Key Points in Using Cone Crusher
Date: Sept 01,2013
In the whole crushing process, cone crusher is in the middle of the production line. As it does not undertake the task of primarily crushing the raw ores as jaw crusher, nor it in the last procedure of directly determining the shape and granularity of the sand, it is not particularly noteworthy. However, Hongxing Machinery can responsibly tell you that cone crusher plays a decisive role in the stone crushing production line.
Hongxing cone crusher has reliable structure and multiple functions, and it is suitable for crushing all kinds of ores and rocks with over medium hardness. According to the specific working condition, cone crusher can be divided into coarse crushing cone crusher, medium crushing cone crusher and fine crushing cone crusher.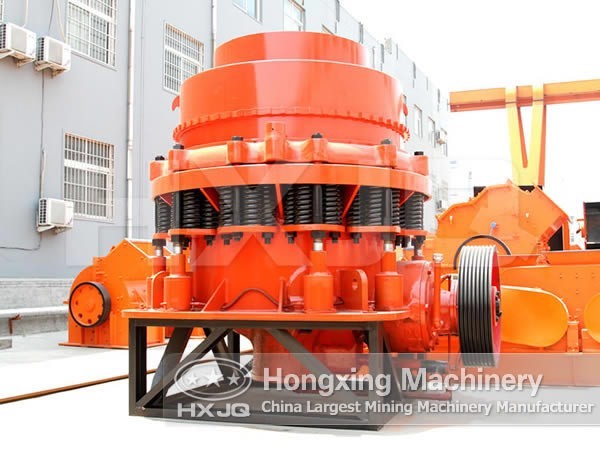 Traditional cone crusher has a disadvantage: the discharging process will stop when the materials are too big. Hongxing cone crusher adopts spring protective system, so that when foreign matters stuck in the discharging mouth, the cavity clearance system will automatically start to increase the discharging mouth, and then foreign matters will be discharged out of the crushing chamber.
Of course, to better maintain your equipment, Hongxing Machinery reminds to operate cone crusher in this way;
1. Before using cone crusher, check the working state of lazy arm, lifting hook, steel wire rope, manipulation and transmission part and hydraulic system.
2. According to the geological condition of the locating place of cone crusher, laid the flexible landing legs to prevent it from tipping, and at the same time, overload working is forbidden.
3. When lifting the machine, listen to the command of the command staff.
4. The operators must have a good command of the commanding signal stipulated by national standard.
Hongxing Machinery believes that good using habit will make your equipment better serve you.