Production Lines Are the Guarantee of Building Industry
Date: Mar 16,2014
In mining machinery market, there are various types of production lines, such as stone production line, sand making production line, grinding production line and ore dressing line. Each production line has its specific functions and usage. Along with the development of the times and progress of science and technology, Hongxing introduces advanced production technology and equipment and independently innovates on this basis to seek technical breakthroughs. Moreover, Hongxing intensifies efforts on improvement of crushing production lines. Currently, crushing production line has realized automatic integration, which has powerful production capacity and superior product quality.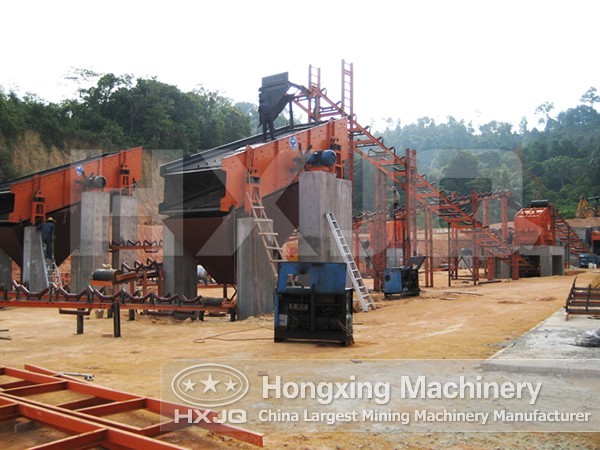 With the development of construction industry, demand of building sand is increasing year by year. Hence, mining equipment manufacturers should produce more efficient artificial sand making equipment with high yield. Main materials of sand making production line are stones, ores and sands. This production line is produced after innovation and on the technical basis of other production lines, which has high automation degree, high production efficiency, big reduction ratio, reliable performance, reasonable design, simple operation, high working efficiency, low energy consumption and energy conservation. Dedicated equipment of sand making production line is also equipment which produces building sand and stone, including jaw crusher, stone crusher, impact crusher, vibrating feeder, vibrating screen, sand washer, belt conveyor and so on.
Sand and gravel production line is successfully applied in the crushing and processing of limestone, basalt, granite, cobblestone and other rocks. Finished product of this production line can completely reaches national standard. Besides, sand and gravel production line can continuously provide qualified aggregate for highway, railway, water conservancy, concrete batching plant and other industries. Hence, it can be seen that development of sand making production line lays solid foundation for development of construction industry, which is also the guarantee of construction industry.