What Kind of Sand Maker does Sand Market Need Most?
Date: Oct 23,2013
In recent years, the continuous rise of the price of artificial sand promotes the development of artificial sand production. We all know that the production of artificial sand refers to the process of using crushing equipment to crush and screen large-sized stone materials, for this reason, it can be said that the crushing equipment directly influences the quality of artificial sand.
In the sand making process, the most indispensible equipment is crusher and sand maker, especially sand maker, as its output determines the final particle shape and yield of sand. There are many sand maker manufacturing companies in domestic market, when what kind of sand maker does sand market need most?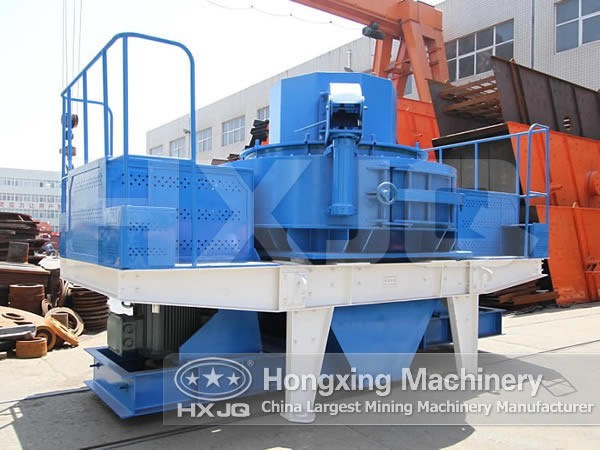 The sand making equipment needed for making artificial sand is new type of highly efficient sand maker, which can also be called tertiary crusher, developed and designed by introducing the latest technology from a mining machinery manufacturing company in German which has 450 years of manufacturing history and that produced the first mixing station and jaw crusher in the world and combining with the feedbacks of the customers.
The typical application of this machine is the present artificial sand making industry and can totally replace rod mill, impact crusher and vertical shaft sand maker. The new type of highly efficient sand maker has many advantages such as small discharging granularity, even particle shape, big production capacity, long service life of the hammers, small mating power, changing traditional three-stage crushing into two-stage crushing, simplified technology, simple structure, convenient maintenance and stable operation, so that it is widely used in many industries such as artificial sand making, cement, building material, refractory and metallurgy. In addition, the artificial sand produced by this sand maker has bigger specific surface area and the concrete prepared with this artificial sand has higher strength, thus greatly improving the performance and yield of the artificial sand making process.