VSI Sand Making Crusher Is a Breakthrough for the Industry
Date: Apr 20,2016
Over the years, China's economy has been growing constantly, so has the demand of the machinery market. Especially in the industry of sand making and crushing machine, there present a variety of needs. With the number of sand making machine manufacturers surges sharply, more and more intense competitions come forth in the sand making machine industry.
In our country, the traffic infrastructure construction projects of highway, high speed railway, airport and so on are unfolded in full swing in recent years. At the same time, the requirement on the quality of sand making machine is improved continually. The high quality sand making machine is the essential equipment for preparing high-grade concrete aggregates. However, the backward traditional sand making machine and the vicious competition between the industry make the entire sand making equipment industry chaotic.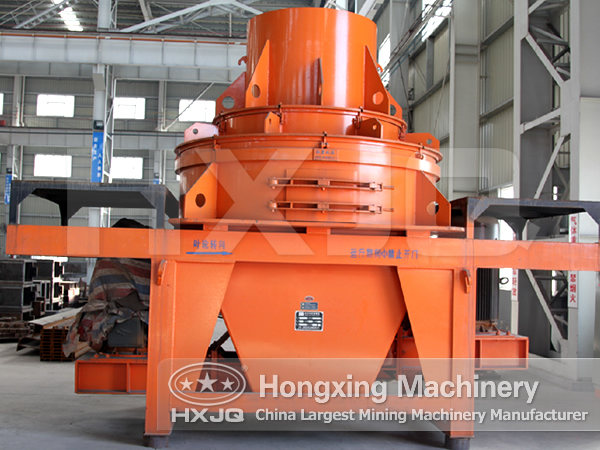 With regard to the relatively backward manufacturing level of sand making machine, Hongxing Machinery who is a professional machinery manufacturer in China thinks that only constantly improving the overall innovation level of sand making machine technology in our country should be the development objective of sand making machine enterprises.
Hongxing Machinery has grown into a supreme sand making machine manufacturer in China through years of progressing. By the constant innovation and research, our company has firmly grasped the latest sand making technology. Our company has developed the new generation of VSI sand making crusher which represents the currently most advanced mechanism sand technology in domestic. VSI sand maker is a new breakthrough in the manufacturing field of sand and stone aggregates production equipment. Now VSI sand making machine has become the most preferred sand making equipment for the domestic production enterprises of sand and gravel aggregate materials and widely used in pebble sand making, tailings sand making, construction waste sand making and many other areas.
If you are interested in our VSI sand making crusher, please contact with us. We will offer you the best product with the most reasonable quotation.