Heavy Hammer Crusher Caters to the Market Demand, More Popular with Users
Date: Aug 24,2015
Heavy hammer crusher caters to the ever-changing market demands, aimed at meeting the needs of more customers, thus it is more popular with users. Heavy hammer crusher is friendly in environment, stable in performance and reasonable in price. Besides, heavy hammer crusher can not only be used in the crushing production line and sand making line, but also can replace cone crusher in the ore beneficiation production line. This machine can be adjusted in line with users' requirements to alter the discharging granularity, so as to satisfy the different needs of different users.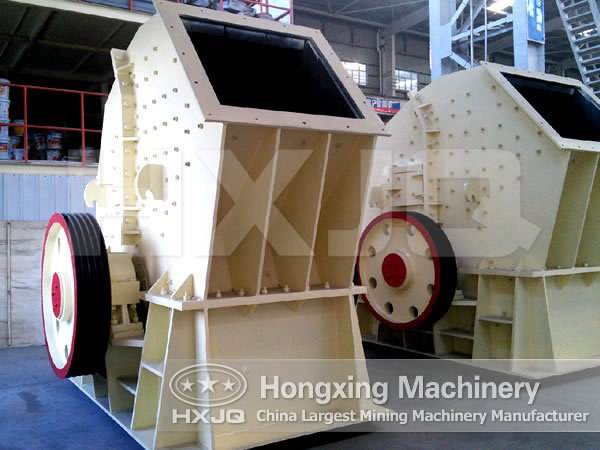 Heavy hammer crusher is a kind of reconstructive large-size crushing equipment on the basis of hammer crusher. In addition to the features of hammer crusher, it still has the advantages of other crushing equipment. Because of its wide application, small discharging size, big inlet size, heavy hammer crusher is favored by a mass of users. It is able to turn the tertiary crushing into primary crushing and equal to two types of crushers with one, achieving the low-cost running for users. Heavy hammer crusher is also named as boulder crusher. It is based on the striking crushing principle of hammer crusher and impact crusher and upgraded continuously. At the same time, it also changes the method to control the discharging particle size by grates, reducing the wear to hammer in the crushing cavity and improving the service life of hammer head by 4 to 6 times
Hongxing Machinery, as a professional manufacturing enterprise of crushing equipment, has always insisted on communicating with our customers. We are not only for the sake of knowing customers' evaluation on our products, but also hope to solve problems for our customers from their point of view. Our heavy hammer crusher saves costs for customers and let them grasp more opportunities in the rapidly changing market competition.
If you have any questions about our products, please contact us via E-mail: sales@hxjq.com or directly dial the sales department Tel: +86-371-67833161.