Introduction and Working Principle of the New-Type Sand Making Machine
Date: Apr 03,2015
There are many types of sand making machines, among which the new-type sand making machine, also known as impact crusher and the third-generation sand making machine, springs up on the demand for modern sand production. The new-type sand making machine is mainly suitable for crushing materials of soft or moderate hardness, especially suitable for Iraq ore , cement, mechanism sand and silicon carbide.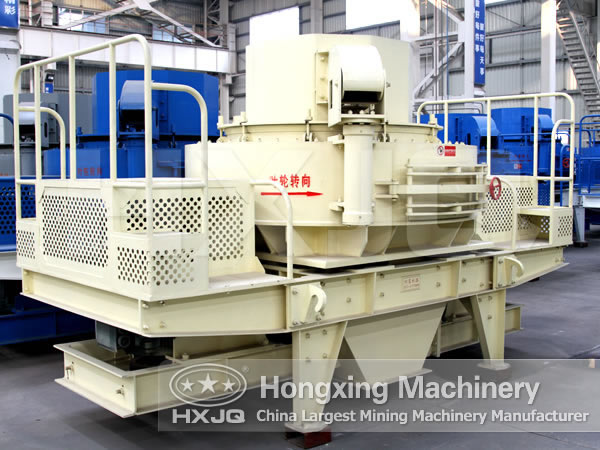 The working principle of new-type sand making machine is making use of the striking and crushing to materials by the hammer mounted on the high-speed rotor, as well as the mutual friction between materials.Sand making machine adapts to the coarse or fine crushing for materials with ultra hardness, moderate hardness and poor abradability. The fineness of the final sand products can be adjusted as needed. It is of particular importance for us to understand the two ways of feeding about the new- type sand making machine and master its working skills.
Overflow Feeding Mode
This approach ensures a fixed material particle size filled into the impeller. If the material flowing into the impeller has reached to its maximum operating load, when the material once again filled into the impeller, it will enter the outside of the whirl crushing cavity through the overflow.
Cascade Feeding Mode
When the feeding particle size is larger than that of impeller, you can use two inlets to feed. Sand making machine uses the huge impact strength produced by the high-speed rotation of impeller and blade vortex, to change thedropping direction of materials, which forms a continuous sand production, reducing the abrasion of equipment, greatly improving work efficiency and reduce energy consumption.