Cone Crusher Walks on the Road of Lower Energy Consumption
Date: Apr 20,2015
Rock crusher plays an important role in our modern society, which is a necessary production machine for many industry. Under the increasingly unoptimistic situation of resources and environment, energy saving and low consumption has gradually become a louder and louder slogan. Cone crusher, as the most outstanding equipment in crushing industry, has a wide application scope. In order to better adapt to the development of the times, and improve the performance of cone crusher, we also have to push cone crusher on the road of energy saving and low consumption.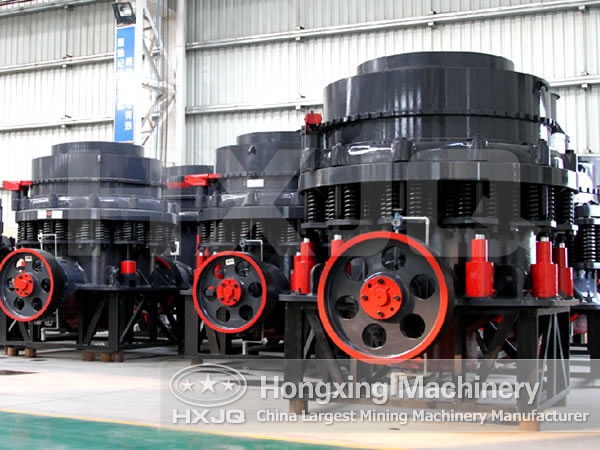 According to cone crusher's design characteristics, we have analyzed and worked out some measures to reduce its energy consumption. Next we will introduce from several aspects. The longer the lining plate is, the higher the power consumption will be. So hard materials should choose short lining plate; Soft materials choose long lining plate; Short liner is suitable for fine materials; And long lining plate for coarse materials. In general, if the material particle size is 10% less than that of the discharging gate, its energy consumption will increase, and the final product shape will change into flake. If the water content of viscous materials increases, it will affect the materials throughput. We also need pay more attention to the control of material moisture, generally not more than 5%, or it will cause energy consumption increase.
Cone crusher, because of its poor running condition, heavy dust, and inadequate maintenance, usually has various kinds of problems in operation. Generally speaking, we should notice the following problems in the use of cone crusher to ensure the machine runs properly. When cone crusher is running, we should feed it evenly, without segregation. If uneven feeding happens, it can cause lower production capacity, product oversize, frequent spring action, large pressure on the bowl bearing, and power consumption rising.