Magnetic Separator is the Most Suitable Ore Dressing Equipment
Date: Mar 15,2015
Due to different ore dressing process, different ore dressing equipment is needed. In particular, magnetic separator is one of the most widely used ore dressing equipment. It is not only used for the recycling of resources, wood industry, mining industry, ceramics, chemical, food and other industries, but also used in iron removing operations in coal, non-metallic minerals, building materials and other materials. Magnetic separator is one of the most widely used high versatility ore beneficiation equipment in mining industry.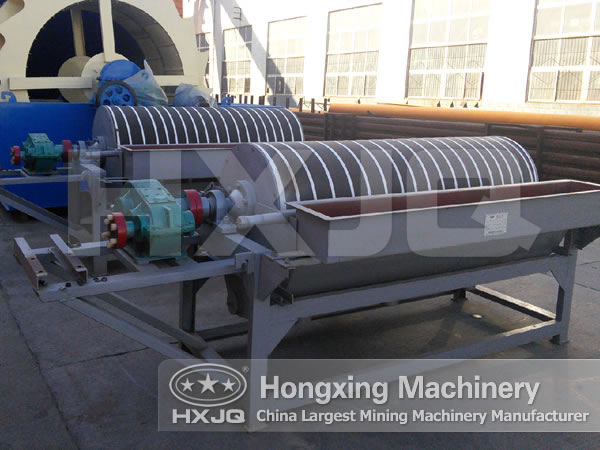 In recent years, the development of magnetic separating equipment is very hot. Therefore, Hongxing Machinery has fully realized that technology can decide everything. With the improvement of ore dressing technology, the requirements of key technical and economic indicators have also improved, and the separation effect of magnetic separation equipment are also continuously improve, which requires the design of magnetic separation machine more and more innovative. It has novel structure, strong operation ability, and the level of production technology is becoming mature. The magnetic separator produced by Hongxing Machinery has raised the magnetic separation equipment to a new height, which has completed the mission that traditional equipment can not complete. Its main characteristic is the magnets with the overall magnetization technique. By using the dynamic magnetic technology, it has optimized the magnetic system of axial magnetic field strength and magnetic field gradient, so that each pole in the axial air gap can be reduced to zero, so as to improve the effective length of magnetic system.
Hongxing Machinery is the professional magnetic separator manufacturer in China, and we can also design the most suitable ore dressing line for you according to your actual production conditions. The magnetic separation equipment produced by our company adopts permanent magnet, which has strong magnetic force, high suction, good iron removing effect, high purity, low energy consumption, safe use, convenient operation and other advantages. In order to be able to give customers more products and strengthen the quality of equipment, we will painstakingly to improve the processing technology of our equipment.