Hongxing Sand Maker Leads to Efficient Granite Sand Production
Date: Feb 06,2015
Granite belongs to hard materials, and the traditional granite production adopts the united production of jaw crusher, impact crusher and impact sand making machine. The newly developed VSI sand making machine can directly process granite, pebbles, basalt and other hard materials to achieve sand shaping effect. The finished particle has excellent product quality and cubic shape, which can reach the sand quality standards of railway, highway, airport and infrastructure construction sectors. It is currently the preferred equipment for artificial sand production enterprises.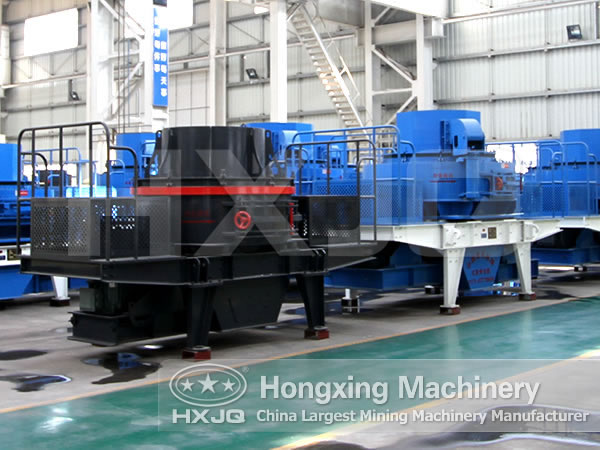 Piles of production practice have proved that when compared with the traditional impact sand machine, the third generation of sand making machine uses deep cavity type rotor after the optimization, so that the material through rate is increased about 30%. The 'jaw crusher + cone crusher +VSI sand machine + sand washing machine vibration screen + feeder' granite sand production line has reduced energy consumption of 30-40%than the traditional granite sand making production line, the consumption of wear-resistant parts is70-80%, so as to achieve a total investment reduction of 20-30%. The new granite sand production line process is the low cost, high yield and short process production line from the savings of wearing parts, loss of motor. It is widely used in all kinds of metal and nonmetal ore, cement, refractory material, abrasives, glass raw materials, construction aggregate, artificial sand, metallurgy and other industries.
The efficient working level of new VSI sand maker comes from the innovation sense of Hongxing Machinery. Energy saving and environmental protection have become the world's appeal and theme, Hongxing Machinery uses best material and high-tech processing technology to make the excellent quality product. With continuous innovation for the development of market concept, we are aimed at creating a more effective sand making machine for energy saving and environmental protection targets. At present, the third generation of sand making machine produced by Hongxing Machinery has hot sale, if you are interested, please contact us!