Mobile Crusher Expands the Concept of Crushing Operations
Date: Nov 10,2014
High-speed rail construction is inseparable from the high quality stone, sand and aggregates. The mobile crusher of Hongxing Machinery is not only the liquidity of the stone crushing operations, but also can be seen as a simple stone production line, which can be widely used in railway, highway, building, water conservancy, metallurgy and other industries. According to the types of raw materials, scale and product materials of different requirements, mobile crusher has strong adaption. Especially for the small production fields, it is more suitable for construction waste crushing and disposal. Mobile crusher has coarse crushing, medium crushing and fine crushing, which can eliminate the obstacles caused by crushing field, environment as the primary solution stand in the position of customers. Mobile crushing plant can provide the real operation of the project of hardware facilities, which has high efficiency and low cost. It can greatly expand the concept of crushing operations.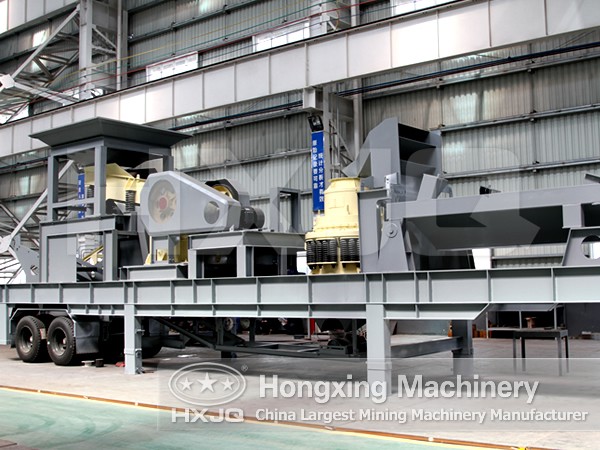 Hongxing mobile crusher is flexible and convenient with strong maneuverability, which can save a lot of infrastructure and relocation costs; it can carry on onsite crushing in the crushing fields, thereby greatly reducing the material transportation cost. The mobile crushing station processed material can enter the sand making machine equipment, or directly used in the mobile sand making machine. Hongxing rubber-tyred mobile crusher is a new product which is convenient to take the lead in accordance with the domestic market. It has flexible configuration and strong adaption. It has a variety of configurations, customers can choose suitable configuration according to their actual needs. You can accord different requirements of crushing process to 'screening after crushing' process, and it also can be composed of the 'crushing after screening' process, crushing and screening can also be used independently.
Mobile crusher is successful in turning construction waste into treasure, which makes contributions to the comprehensive utilization of construction waste resource in cities. In the operation of mobile crushing equipment, the waste treatment mode of construction shall follow the circular economy 'reduction, reuse, recycle'. The linear model of construction garbage disposal equipment changes the traditional building materials -- buildings -- building rubbish, formed by the construction materials -- building -- construction waste -- recycled materials circulation mode, which makes the raw materials in the construction process maximized, efficient and used for a long time. Its impact on the natural environment has also been reduced to as small as possible degree.