Sand Maker Makes Great Contributions to Sand Production Line
Date: Nov 17,2014
The traditional sand making machine has high sand flakiness content, when it is mixed with concrete, the compressive strength will decrease, so it cannot be widely used in the construction field. Sand maker is mainly used for artificial sand making. In addition, it is suitable for the crushing and plastic of soft, hard and super hard materials, which is widely applied for all kinds of ores, cement, refractory material and bauxite clinker. Especially for carborundum, silicon carbide sintered bauxite, beautiful sand as well as other hard, super hard and abrasive resistant materials; it has higher yield and efficiency than other types of crushers. The third generation of sand making machine has both gravel and plastic functions, which greatly reduces the content of needle sheet material, and it also makes the stone chestnut and surface area increase after plastic. The sand product completely meets the national standard, and the concrete integration will be better.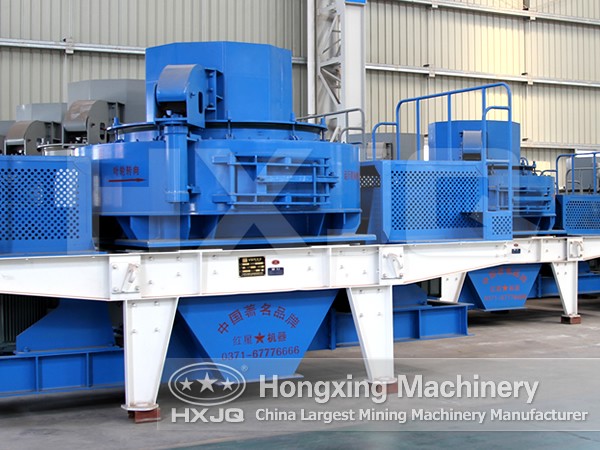 The third generation of new sand making machine produced by Hongxing Machinery with shaping function advantage in sand production line can serve as filling, highway (highway of high level) in the construction of concrete aggregate grain shape and gradation continuously put forward high requirements. The third generation sand making machine shaping equipment can be used for transformation of the old production line to improve the quality and the ability to aggregate, high performance concrete development (above C40) aggregate (stones) production line, improve the quality of sand production. The sand making machine equipment is added to the allocation in production line, each big stone manufacturers on the production of stone and sand is very satisfactory, which greatly reduces the product needle flake content, sales price is the price is slightly expensive than ordinary sand stone, and it has received the critical acclaim from customers.
Hongxing Machinery is a major mining equipment manufacturer in China, which includes sand maker, sand washer, magnetic separator, flotation machine, ball mill, stone crusher, dryer, rotary kiln and a series of mineral processing equipment. We always takes the company spirit of 'customer first' and 'quality first' principle, be professional focus and free to provide technical guidance, the equipment installation commissioning as well as the training of technical staff for customers. Welcome customers to consult us!