The Unique Features of Hongxing Shaking Table
Date: Oct 11,2014
Shaking table is usually composed of three parts: table surface, frame and transmission machine. In addition, it also includes the flushing groove, feeding chute and the base. The whole shaking table is supported by the frame, and the frame is provided with slope adjusting device. Shaking table can make the particle density and size according to the different motion along with different directions. From the beginning to the ore trough along the diagonal fan out to the edge, the bed surface discharge line is very long, which can accurately produce the product of various qualities, such as the concentrate, middlings and tailings. Shaking table can be classified as: slime glass shaking table, steel shaking table, 6S shaking table, etc.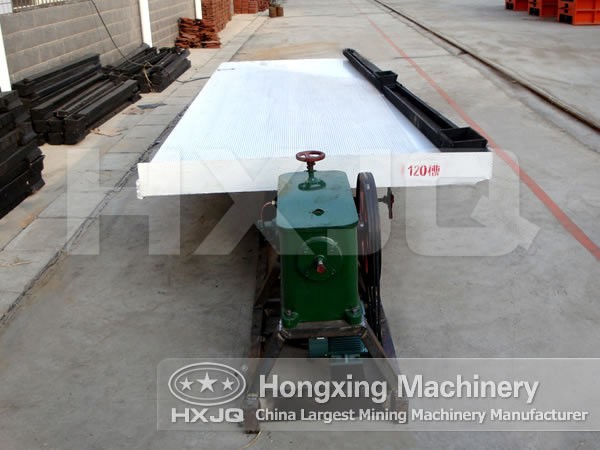 The processing quantity of single shaking table is small, large occupation area is an important shortcoming for its large applications. In order to solve this problem, ore dressing shaking table has developed to the direction of multilayer, and the hanging cradle is not difficult to improve the processing capacity of unit ground, and it also saves a heavy foundation. There is no longer any shock vibration on the buildings and its operation and maintenance is simple, which is advantageous in the construction investment and operation management. The traditional 6S shaking table occupies large area with low processing volume. The use 6-s single table has removed customer's annoyance that no equipment or better methods can solve these problems. The 6S double shaking table solves many problems in the actual production process.
When selecting a shaking table, we should not only consider the price, but also consider the quality. By combining their applications, you will obtain a satisfied answer, right? It can bring you more benefits, just look before you leap, so we believe that everyone can find their own suitable shaking table! As a professional manufacturer of shaker table, Hongxing Machinery has various types of shaker tables for sale, of which gold shaking table is the best-seller. It is also named as gold shaker table or shaker table for gold, which is fully approved by customers from home and abroad. Hongxing shaking table has reliable quality, reasonable price and advanced technology, welcome to make an enquiry!