The Application of Rock Grinding Mill Has Been Widened
Date: Oct 06,2014
With the development of society, the domestic construction industry is developing quickly, so the demand for cement and coating material is increasing day by day, and the ceramic industry has also flourished. Therefore, the powder is also in growing demand, as a result, the powder price is higher, and it has still appeared in short supply situation. The rock powder material is produced by rock grinding mill, so a good rock grinding mill is the key to occupy the powder market. Grinding mill is one of the main equipment for the production of powder, there are many applied materials of rock grinding mill, such as: kaolin, bentonite, limestone, fly ash and other raw materials. The annual cement production capacity in China is billions of tons, and the use amount of powder is bigger, so we need one or more excellent grinding mills to ensure the continuous improvement of production, so as to bring more profits.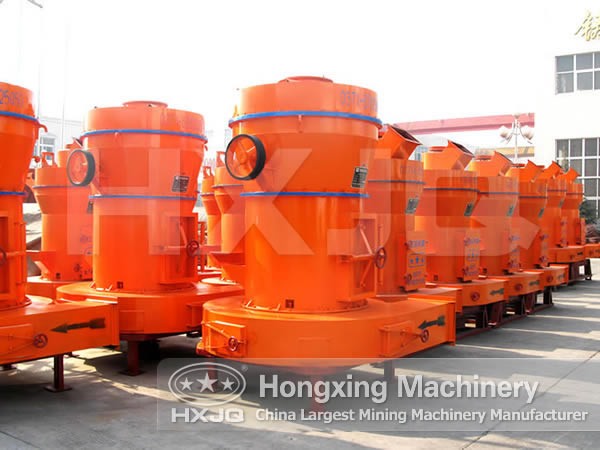 Hongxing rock grinding mill is a newly developed milling machine, which is a kind of stone processing equipment. It is mainly suitable for the superfine powder processing of stone materials with medium and low hardness as well as non flammable and explosive brittle materials with grade 6Mohs hardness, such as limestone, dolomite, calcite, chalk, charcoal black, kaolin, bentonite, talc, mica, magnesite, illite, vermiculite, sepiolite, palygorskite, rectorite, barite, gypsum, etc. The stone powder produced by rock grinding mill has very wide applications, and it even can be used for paper making, which grinds the calcium carbonate contains as the main component of the stone into fine particles and then blows it into 'stone paper'. The invention of the new project has added luster to the road of industrial power in our country. At present, the various manufacturers are improving the grinding technology itself, and its application has been widened.
When choosing the rock grinding machine, we need to investigate many of the milling machine manufacturers to understand the power, yield, fineness and pollution situation of the machine, and then choose a good enterprise to purchase after comparison. Hongxing Machinery is engaged in the production and sales of milling machine for a long time. With years of experience, we have played a decisive role in the domestic grinding mill market. Hongxing rock grinding machine has high efficiency and low energy consumption, which has been widely praised in domestic market, it is also exported to the Middle East, North Africa, Southeast Asia and other dozens of countries. We have occupied a leading position in the market, and the purchase of our grinding equipment is affordable. The new kind of grinding equipment has been fully listed, which are in panic purchasing situation!