Compound Crusher is a New Tool for the Crushing of Materials
Date: Sept 25,2014
As everyone knows, the widely used crushing method is still based on the mechanical shredding forces, which mainly include extrusion, impact, grinding and splitting; non mechanical shredding is still not used in large industrial production. However, with the appearance of compound crusher, the crushing operations have become much more convenient. Compound crusher is widely used in cement, refractory material, building materials and artificial sand industry, which has excellent performance in the crushing operations of limestone, pebble, dolomite, blast furnace slag, coal gangue, refractory and other medium hard stones. It is especially suitable for making artificial sand and road pavement.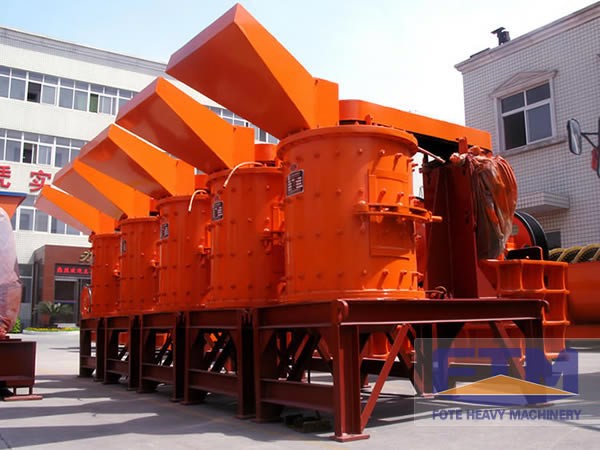 The compound crusher produced by Hongxing Machinery is developed on the basis of foreign advanced technology. It is applied with the new crushing technology to crush materials of different specifications. The crusher has fine and uniform particle size ratio as well as low power consumption. There is no requirement for humidity of the material, and this kind of crusher is suitable for crushing brittle materials and various kinds of minerals. It has proved a good prospect by processing in the field of mining industry. Compound crusher has large throughput, high production capacity and unique design so that the costs of maintenance reduced and production efficiency greatly improved. The development of compound crusher should be continuous, so as to improve its technical level and performance, which not only leads to its reasonable and perfect use, but also has a corresponding role for the state of other mineral resources. Hongxing Machinery is the professional compound crusher manufacturer who continues to improve the crushing equipment step by step. The current crushing machine has reached a certain level in the market. In the key development period of the of national iron and steel industry, the development of iron ore crushing machine should keep moving for the utilization of iron ore as well as the iron and steel industry!
As the experienced compound crusher manufacturer, Hongxing Machinery has won great support from domestic and foreign customers. Even though our compound crusher adopts the latest technology and the experienced production techniques, the compound crusher price of our company is low with the same quality in crushing machine manufacturing industry. Customers are warmly welcomed to visit us!