How to Lubricate the Screw Thread of Impact Crusher?
Date: Sept 19,2014
Impact crushing machine can deal with all kinds of rough, medium and fine materials with less than 500mm side length and less than 350MPa compressive strength. It is widely used for crushing all kinds of ores and aggregates in railway, highway and construction industries. Both big and small impact crushers of our company are the latest generation of crusher which has combined domestic and foreign advanced technology with the specific mining conditions of domestic stone industry. The adjusting sleeve is an adjusting component of the crusher; therefore, in order to ensure the free rotation of the adjusting sleeve in the supporting sleeve, the bearing sleeve thread must be lubricated periodically.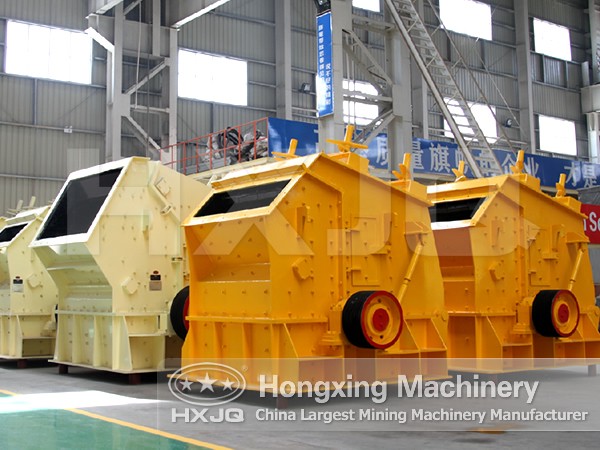 The side or the top surface of the supporting sleeve is evenly distributed with the fuel nozzle, so that the thread of the adjustment sleeve and supporting sleeve can be lubricated. See more details in the following dry oil lubrication chart. When the adjusting sleeve is in the crushing position and pressure relief position, spray the lubricating grease into the oil mouth. Regular oiling system should be carried out. When using the lithium base grease or equivalent grease, it is preferable to mix with 5-10% (volume) of MoS2 powder. When crushing furnace slag, melting slag and other thermal material, you should use the high temperature grease, or mixed with 5-10% (volume) of MoS2 powder. It has been found that the effect of mixing molybdenum disulfide powder and lubricating oil is very good during the high temperature operation.
Impact crusher is a new kind of high efficiency crushing equipment, which has characteristics of small size, simple structure, large crushing ratio (up to 40), less energy consumption, large production capacity, uniform product size and selective crushing effect. It is a promising device. Hongxing Machinery is a professional impact crusher manufacturer, and we have impact crusher for sale, which has reasonable structure, top quality and thoughtful services. If you want to know more information about our impact crusher price, please leave us a message or send emails to us, and we will answer you as soon as possible!