Some Attentive Matters in the Operation of Mobile Crusher
Date: Jul 13,2014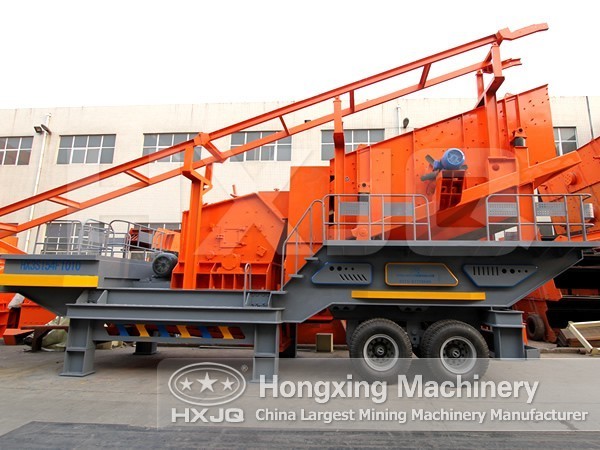 With the rapid development of urbanization, there is more and more construction waste in cities, which is a big problem of the government. Currently, the construction waste problem is increasingly exposed, so a lot of cities have purchased the mobile crushing station to solve this problem. What we did not expect is that the working ability this kind of equipment is strong, which is flexible for the disposal of construction waste. What are the key points we need to notice during the operation of mobile crushing station?
The first is to use different equipment in different periods, so as to improve the utilization rate and working efficiency of the machine. Because the mobile crusher consists of coarse crushing, medium crushing and fine crushing, you should choose the suitable equipment according to the sizes of the materials. You should pay attention to the surrounding people on the operating site to ensure the safety of the surrounding circumstances, after that, the machine can be started. Do not allow non professional personnel to operate, repair or maintain the crusher. If the spare parts are damaged, you must contact with the manufacturer of mobile crushing station, please do not produce or modify the spare parts yourself.
When operate the construction waste mobile crushing station, you should select the waste first. Remove the materials which cannot be crushed such as steel. If not taken out, it will cause great damage to the machine. When the rubber–tyred mobile crushing station is operating, operators must pay attention to the quality of materials, whether there is no change. If there is any variation, or the discharging speed is slow, the crusher should be shut down to check whether there is any blockage or sieve breakage phenomena. Then carry out the corresponding repair or the replacement of damaged parts. During the operation of the mobile crusher, the operation personnel must pay attention to the voice of the machine, if there is an exception, stop and check the machine immediately.
Hongxing Machinery produces two kinds of mobile crushing stations: rubber–tyred mobile crushing station and crawler type mobile crushing station, which are the best weapon for processing the construction waste, and it is the integration of feeding, crushing, screening and conveying. Construction waste is crushed into recycled aggregates with the help of the mobile crushing station. If fly ash, cement and other additives are added to the aggregates, 15 kinds of green building materials such as unburned brick, grass planting brick, brick plaza, permeable brick and road brick can be made to promote the development of domestic construction waste recycling.