What Are the Advantages of the Dry Magnetic Separator?
Date: May 03,2014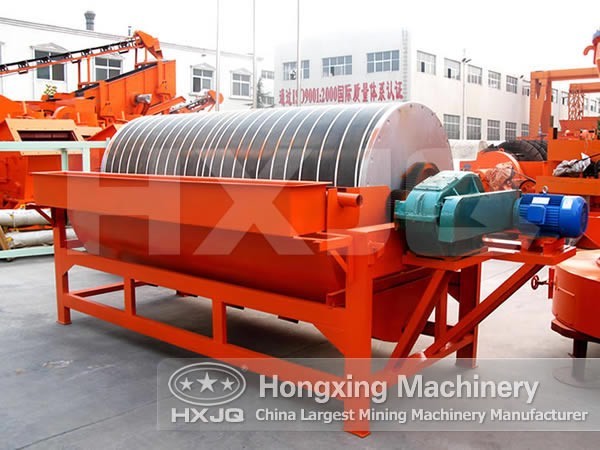 The resources in the world can be divided into two kinds: renewable and unrenewable resources. There are lots of places using dry magnetic separation machine to avoid the problem of water shortage, which is also the biggest advantage of the dry type magnetic separator. The following are its other advantages:
1. The dry type magnetic separator is suitable for the magnetic materials within 0.4-16mm in size, transferring the ore dressing process from the scattered type to the centralized type through designing the combination form, and improving the efficiency and ore grade obviously.
2. The basket sieve and linking belt conveyor can be directly installed on the magnetic separation machine, forming a relatively complete beneficiation process from delivering to screening then to magnetic separating.
3. Using the permanent magnet system design, ensuring the stable work and high concentrate grade.
4. The left and right magnetic system design is adopted based on the mineral particle size, with the left part guaranteeing the mineral granularity under 2.5mm, while the mineral particle size of the right part within 2.5 ~ 16mm; The materials greater than 16 mm could not enter the magnetic department to be separated.
5. The transmission part adopts the exposed structure, realizing the rapid maintenance and repair in the process of production.
6. Apply the higher electrical control technology, making the operation convenient and easy to understand, to improve the work efficiency and reduce the labor intensity of the operators.
7. The separation bucket is equipped with an adjustable stainless-steel baffle plate which can effectively ensure the service life of the machine and avoid the rust's effects to the mineral grade; the baffle plate also can be regulated flexibly and firmed rapidly, making a significant contribution to the ore grade improvement.