Jaw Crusher without Dust Pollution Is More Environmentally Friendly
Date: Mar 07,2014
In various stone production lines and sand making production lines, stone crushing and processing of jaw crusher always produce a lot of dust which does great harm to health of front-line workers in production lines. Long-term work in such an environment will not only affect people's health, but may even get lung lesions and cannot breathe, thus leading to death. For any people, life is only once, so, we should cherish life and stay away from dust. However, because of the stress of life, many workers have to still endure the dust and keep working.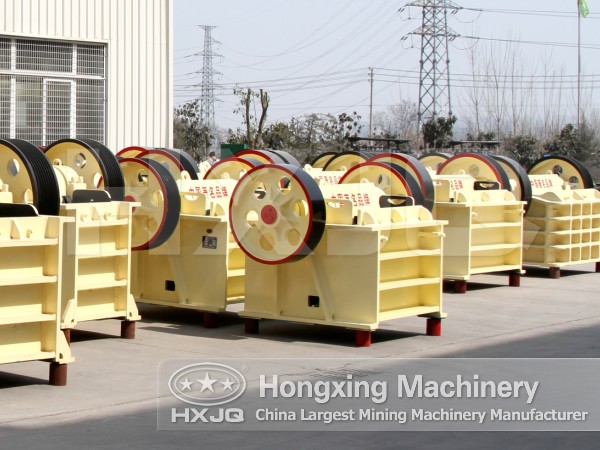 Taking this point into consideration, Hongxing Machinery has improved production technology of jaw crusher, eliminated polluting production equipment and adopted new technology and equipment so as to simplify crushing and screening works and reduce dust. According to characteristics of dust of jaw crusher, Hongxing Machinery firstly closes the dust sources of feeding and discharging, then collects dust with draught fan and lastly uses wet dust collector to purify and treat dust laden air. In later screening process, Hongxing Machinery adopts wet crushing and screening technology to reduce dust pollution. So, if the production technology allows, mining enterprises should use wet crushing and screening technology to reduce dust as far as possible.
Nowadays, Hongxing Machinery has formed complete product chain which includes crusher, sand maker, mobile crushing station, vibrating screen, feeder machine, etc, which has become domestic first-class mining enterprise. According to market demand and product status, Hongxing Machinery constantly intensifies efforts on exploitation of international market. The mining crushers produced by Hongxing Machinery include jaw crusher, impact crusher, roll crusher, gyratory crusher, which have been widely used in industrial production.
With the acceleration of urbanization construction, China has entered rapid development period of urban rail transit. It is predicted that construction boom will last for at least 10 years. Crusher industry will inevitably develop rapidly with the development of infrastructure construction. In 2014, along with fast and continuous development of domestic railway, road, bridge, water conservancy and other projects, Chinese cities approved to construct rail transit by the state are up to 37, which is the world first and lays solid foundation for development of mining crushers.