Tip:
If you would like more information about this product, or consult our product quotation, you can leave us a message at the bottom of the page( or click send inquiry directly to the bottom). We will get in touch with you within one business day, your message content will be strictly confidential.
Brief introduction to Hongxing linear vibrating screen
Linear vibrating screen adopts double vibration motor drives, when they do synchronous and repeated rotation, vibration forces produced by eccentric blocks offset each other in the direction parallel to motor axis, and fold a resultant force in the direction perpendicular to motor shaft, so the motion trajectory of linear vibrating screen is a straight line.
There is a tilt angle between relative screen surfaces of two motor axises; under the resultant action of vibration force and self-gravitational force, materials on the sieve are thrown up, then they bound ahead by leaps for linear motion, so as to achieve the purpose of screening and grading materials.
Application scope of vibrating screens
Linear vibrating screens is widely used in mining, coal, smelting, building material, fire-proof material, light industry, chemical industry, etc.
Features of vibration sieve
Low energy consumption, high efficiency, simple structure, easy maintenance, fully closed structure.
It can screen out seven kinds of materials with different granularities and the top sieve mesh is 400 meshes.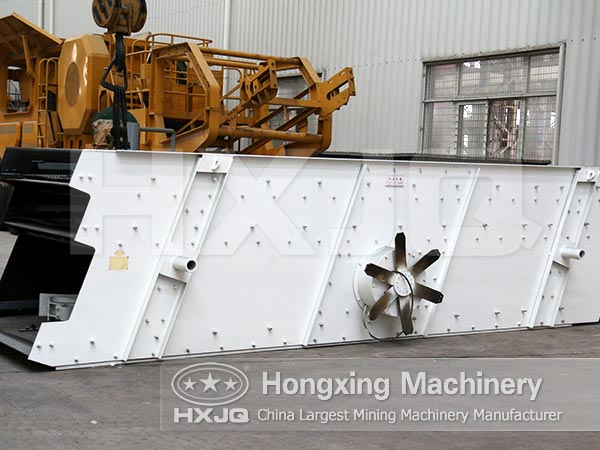 Note
In operation of vibrating screen, it is normal to meet unavoidable problems; for example, when screen materials, discharging process may be unformal, then we can screen materials by adjusting upper and lower hammer to achieve better effect.First of all, we can adjust the attached hammer of vibrating motor to increase the vibrating force of vibrating screen.Second, change the angle of upper and lower hammers of vibration motor to change residence time and trajectory of materials on vibrating sieve.In addition, you can open the barrels of vibrating screen, loosen retaining bolts of lower hammer and according to movement direction of materials to adjust angles of upper and lower hammers along the opposite direction of vibrating discharging hole.