Use Hammer Crusher to Crush Materials with High Moisture Content
Date: May 25,2014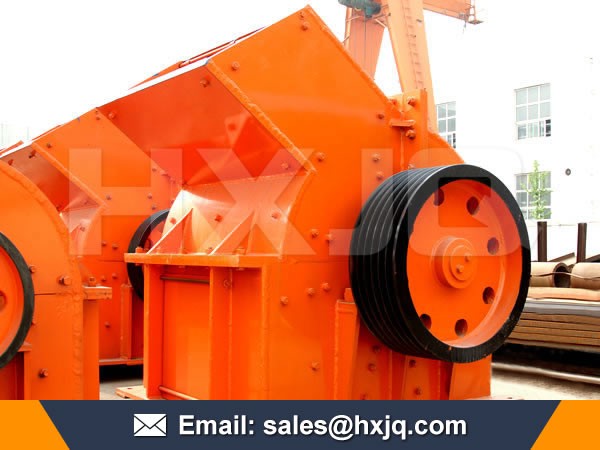 Hammer crusher is a crushing machine with simple working principle and good performance. It gets popularity among customers as soon as it is developed, which is the same with jaw crusher. There are many types of hammer crusher: ring hammer crusher, plate hammer crusher and heavy hammer crusher etc. Hongxing Machinery has rich experience and advanced technology in crusher production. The hammer crusher produced by Hongxing Machinery is excellent in performance and especially suitable for materials with high moisture content. These advantages make it well-received by customers.
The progress of crusher provides the equipment a huge market and expands its application range at the same time. The technological progress and ascension of crusher pushes forward the mining machinery industry, also rapidens social development and economic progress. Hongxing Machinery developed a new type of hammer crusher without screen through continuous innovation and exploration. This equipment succeeds all advantages of the previous hammer crusher and reforms its shortcomings, thus makes it a perfect crusher. It has a higher efficiency, a bigger yield and a more satisfying fineness of final products, compared with the previous hammer crusher. In addition, it has other advantages like fewer workers needed, simpler process, lower noise and less energy consumption. All these strong points make it an ideal choice for enterprises and individuals. The appearance of two-stage screen free crushing equipment solves the crushing problem of materials with high moisture content.
The hammer crusher after reform is widely applied in industries like building construction, coal, salt, chalk, gypsum, tile, limestone, wood and paper with strong elasticity and tenacity. The new-type hammer crusher, as one of crushers with high working strength, combines the advantages of traditional hammer crusher and impact crusher, achieving multi-usage of it. It could save investment by about 40% for customers compared with the previous crushers. Its innovation brings convenience to people's life and the industry's progress. Welcome you coming or calling at +86-371-67833161.