The Unique Advantages of Hongxing Roll Crusher
Date: May 17,2014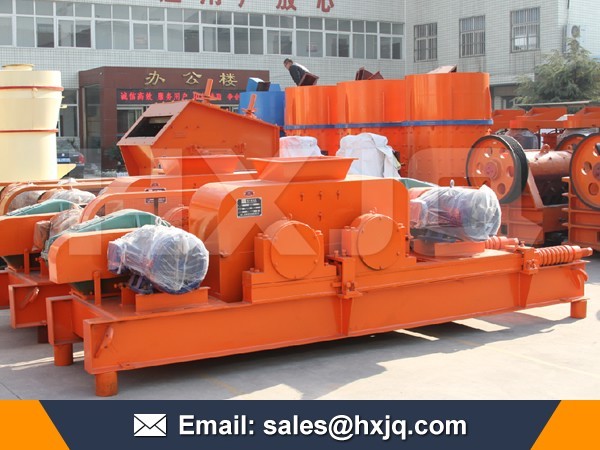 There are many kinds of crushers and suitable for different industries, according to their different working principles and models. The roll crusher is one of them with rather small size and large reduction ratio because of its simplified structure, stable functioning and little vibration. In addition, its electricity consumption and transportation cost is rather small and the final products after crushing is even in the granularity. The roll crusher produced by Hongxing Machinery adopts the high manganese steel material which is strong in the wear resistance and long in service life.
The unique advantages of Hongxing roll crusher:
1. This machine is driven by only one motor, which makes it high-performance and energy-saving.
2. The tooth roller type feeding mechanism makes the feeding smooth and uniform.
3. Pneumatic feed gate control.
4. Good crushing effect without much powder.
5. Stable and reliable high-strength rack.
6. The roll synchronous control device can easily balance the roller.
7. The rotating instrument handwheel conducts precise adjustment to the roller space.
8. The optimum combination of transmission and belt tension devices.
9. High-quality bearings and bearing seat.
10. The belt pulley adopts the attached type device for the cooling. The cooling effect is superior.
The roll crusher structure is simple and compact, which leads to small size and small covering area, so customers don't have to worry about the installation area when buying it. In order to avoid the tiny powder after crushing, we equipped it with a dust shield inside the machine at the designing period. The roll crusher has a better sealing property, smaller noise and better working environment compared with the traditional ones. In order to avoid the accident during functioning, we equipped it with a safety protection device to prevent the metal materials entering into the crushing chamber. The bearing supports the whole machine, so protect it well if you want the crush to have a long service life. To best maintenance to keep the bearing functioning stable, efficient and energy-saving is to do a good job of lubrication.