How to Control the Temperature of Flotation Machine?
Date: Aug 04,2014
Flotation machine is suitable for separating ferrous metals and non metals such as coal fluorspar and speck stone. It is driven by the motor V-belt and the impeller will rotate with the transmission of the motor, then the centrifugal force will form the negative pressure. On one hand, it absorbs sufficient air to mix with the slurry; on the other hand, it stirs the pulp to be mixed with the drug and refines the bubble, so that the minerals will adhere onto the top of the foam and form the mineralized bubbles. Adjust the gate height to make useful foam not being scraped by the plate. During the mineral processing operation of the flotation machine, a good grasp of its temperature control is crucial to the flotation machine.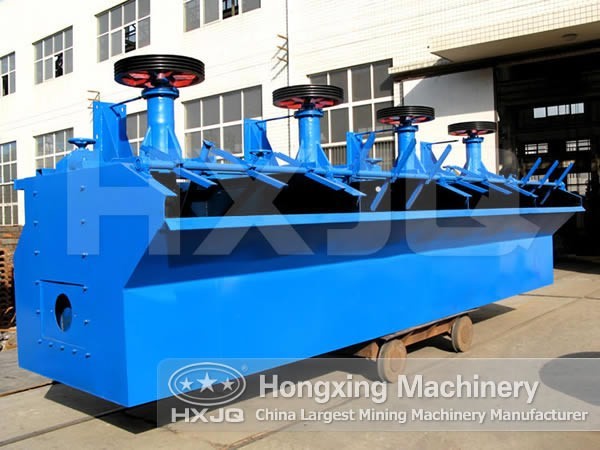 Flotation machine is the important equipment in the flotation process. During the mineral processing operations in peacetime, only by meeting some conditions of the flotation machine, we make it work better for us. It is the control of the temperature. Temperature control is essential in the production process of flotation machine, which is also one of the main factors influences the floatation effect of the machine. The better control of flotation machine temperature can improve the flotation indexes, which can obtain a higher degree. Of course, the slurry temperature also influences the flotation reagent activators and inhibitors. One certain thing is that, the flotation machine temperature is certainly not the same in winter and summer. And the temperature difference of pulp is very large, in order to ensure that our work is complete, the pulp temperature also should be controlled to some extent. So these two points are very important and coexist, customers need to carry out careful operations.
However, because there is a large amount of pulp, if only to adjust temperature and heat the ore pulp, it is clearly uneconomical. Therefore, the general process of flotation if often carried out at room temperature. As long as we follow the operation regulations, we will not have any other problems in the actual production. During the daily use of flotation machine, if you operate it in strict compliance with the instructions, the failure rate will be greatly reduced. It also reduces economic losses without affecting the safety of staff. If there is any other problem, please contact us.