The Classification and Usage of Shaking Table
Date: Ju 03,2014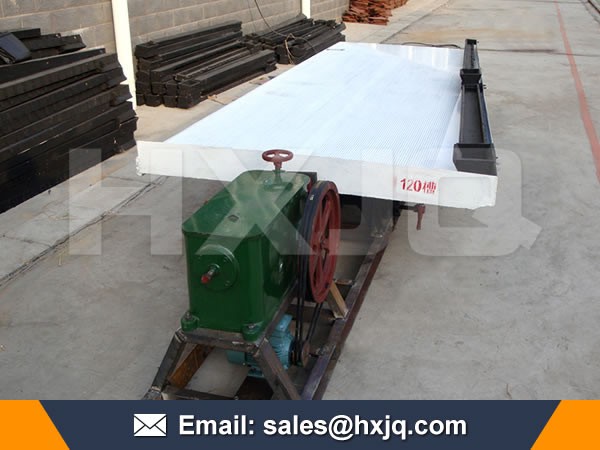 The Classification of Shaking Table:
There are many kinds of shaking table in production. They can be divided into four kinds according to their use: sand table (deal with ore within 2 ~ 0.075 mm), slim table (process slime within 0.075), beneficiation used shaking table, coal beneficiating shaking table. They also can be divided three kinds according to their structure like structure of table head, structure of table surface and the supportive form: 6 - S type shaking table, YunXi type shaking table and spring shaking table. In recent years some foreign countries also promote a hanging multilayer shaking table, which is also produced successfully in our country and used in production. In addition, our country also made a centrifugal shaking table with a special structure, which has been applied successfully in coal preparation plant. The stroke of spring shaking table can be adjusted by turning the hand wheel. Through tightening the screw, the soft spring will be compressed and the energy will increase, so its stroke will be bigger. But this regulation has a certain limitation. We can increase the eccentricity to extend its limit. Times of stroke can be regulated only by changing the motor rotating speed and belt diameter. Similar to YunXi slime shaking table in table surface, spring shaking is made up with grooving method. The supporting method is the same with YunXi type shaking table, they both adopt wedge block to adjust slope within 1°~4°. Double-layer and multi-layer shaking table doesn't change its located type structure in installation. Their common disadvantage is that the inertia force to its frame during functioning is big, requiring it to have high seismic resistance. So people produced the hanging multi-layer shaking table to replace the fixed one.
Hongxing Machinery is a leading force in shaking table manufacture, if you are interested in our products, please contact us! We will provide you the most qualified products with a most reasonable price!