The Applicability and Practicability of Wheel Sand Washer
Date: Ja 15,2014
Sand washing machine is the key equipment in sand making production line, which is widely used to wash the stones, sands and ores with the medium hardness. The sand washing machines produced by Hongxing Machinery hold absolutely advantages in both sand washing efficiency and stability among similar products. The main machines used to wash sand are bucket sand washing machine, wheel sand washing machine, spiral sand washing machine and so on. In this article, Hongxing Machinery will introduce the applicability and practicability of sand washing machine.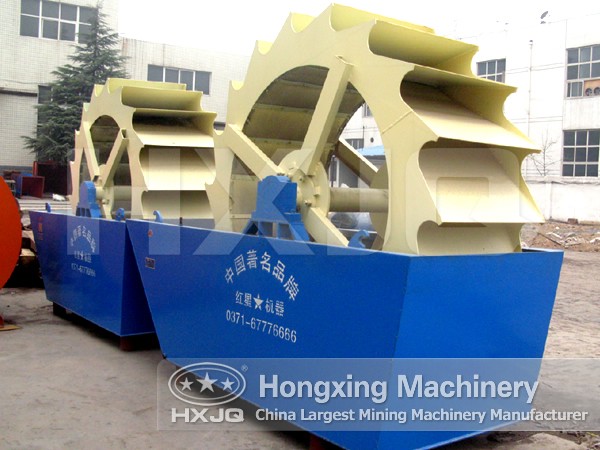 The applicability of wheel sand washer
The emergence of wheel sand washer complies with market demand, which meets the building sand standard. Different from previous equipment, the wheel sand washing machine not only improves cleanliness of sand, but also ensure quality of sand washing. Hongxing Machinery can design different models of washing sand machines according to different raw materials. Wheel sand washer can wash sand, stone, ore and other raw materials, which has good applicability. Besides, the wheel sand washing machine is also the most widely used equipment in washing of building sand.
The practicability of wheel sand washer machine
Speaking of practicability, we should have to mention the sand washer machine of Hongxing Machinery. It has passed the standard of applicability, which has good service condition. The sand washing equipment needs continuous improvement in order to meet changeable market demand. Hongxing sand washer is suitable for sand washing of sand washer plant, mixing plant, sand production line and other fields. The compressive strength of washed sand can reach building sand standard, which can be used in construction safely and trustingly.
When selecting sand washing equipment, it's necessary to take applicability and practicability into consideration. Highly efficient sand washing machine plays an important role in building projects. If you have any problems of sand washing machines, Hongxing Machinery will try its best to solve them for you.