Technology of Sand Maker Determines Quality of Artificial Sand
Date: Mar 10,2014
With the development of infrastructure construction and dwindling of river sand resource, building industry begins to fine new sand resource from artificial sand making production line. River sand has various advantages in terms of construction. However, with the increasing requirements of each indicator of buildings, natural sand presents volatility of physicochemical indicators because of the difference of regional distribution and natural weathering generated conditions, which isn't conductive to quality stability of concrete, especially the high-performance concrete. Actually, these disadvantages can be overcome be means of artificial sand. Besides, with the shortage of river sand, artificial sand making production line not only solves the lack of natural sand, but produces high-quality artificial sand for various construction projects.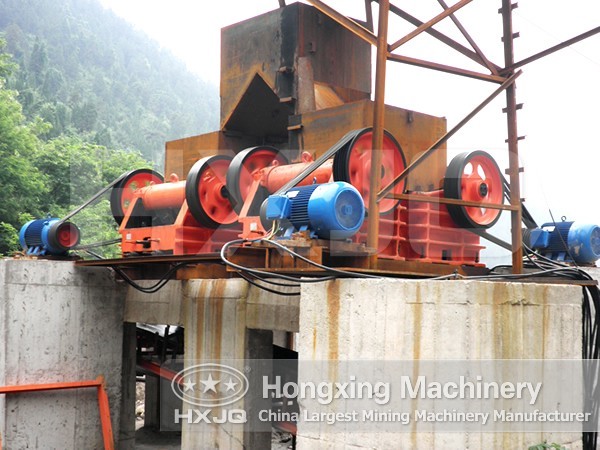 Currently, China has hundreds of manufacturing enterprises of artificial sand making equipment. Just like other industries, artificial sand making industry also has quality difference. Firstly, we must know that production cost of artificial sand is expensive. If you simply thinks that pounded rock is artificial sand, you are totally wrong. High-quality artificial sand should be mixed sand-artificial sand-stone powder-mud-natural sand-weathering sand-mixed sand of tailings. Currently, due to large demand of artificial sand, some enterprises which don't possess the production conditions of qualified artificial sand produce inferior artificial sand, which not only makes users pay much more cost than usual, but seriously affects quality of construction engineering. Looking from the current situation, the most prominent problem of those enterprises which produce inferior artificial sand is the mechanical equipment which cannot meet technical requirements in addition to management conditions.
Construction of buildings needs large amounts of sand. But the quality requirements of sand are not the same. Rough appearance and bad shape are the main difference of natural sand and artificial sand. Those sands with rough appearance and bad shape will directly quality of engineering projects. Hence, good or bad quality of artificial sand should be identified according to appearance and shape. Hongxing Machinery can provide artificial sand making production lines with various specifications. The production lines of Hongxing Machinery is of high automation degree, big reduction ratio, high production efficiency, big processing capacity, high comprehensive strength, easy maintenance and upkeep, etc. Wearing parts of Hongxing mining machines all use international advanced high strength wear-resistant materials, which have low abrasion and long service life, and which can bring considerable economic benefits to customers.