Hongxing Machinery is an Outstanding Sand Maker Manufacturer
Date: Mar 30,2014
Sand maker is also called vertical shaft impactcrusher, which has been used widely. It is not only applied in crushing medium-hard and extremely hard materials such as granite, basalt, limestone, quartzite, gneiss, cement clinker, concrete aggregate, ceramic materials, iron ore, gold, copper, alumina, bauxite, silica and so on ,but also the materials whose properties vary greatly such as artificial sand, pre-grinding cement, mining, refractory and other industries' crushing operation.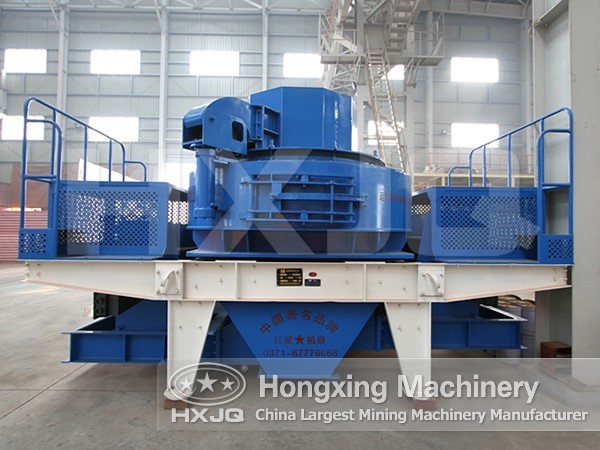 In order to meet the tasks that single sand maker or crusher cannot complete successfully, Hongxing Machinery has produced a new kind of sand maker. It is developing gradually on the basis of original sand maker, which has become the first choice for gravel production and sand making manufacturers. The sand production line of Hongxing Machinery consists of three systems: the first is feeding system, which aims at sending materials to the next system continuously; it is the crushing system, which is made up of crushers of different specifications. The system is the most important part of the sand production line, and its significance is just like the heart to a person. If there is anything wrong with this system, the quality of sand as well as the production process will be affected. Therefore, it must be paid more attention to during daily maintenance. When the materials go through the crushing system, they will be moved to screening system, which is the last step of sand production line. Even though it just separates materials, its function cannot be ignored. Because it can put materials which do not reach the standard into crushers for further crushing.
The production ability of Hongxing Machinery sand production line is up to 500t / h with the co-operation of these three systems. Comparatively speaking, its efficiency is improved by more than three or four times, because of wearing parts of sand production line equipment, the newest cast high-strength wear-resistant materials are used to extend the life of the production line greatly. In addition, the production line also has advantages such as environmentally friendly and free from changes of the environment, which has become a capable assistant of the sand production industry.
From the present situation, the demand of crushers will increase in 5 years. And cone crusher and construction waste disposal equipment will become the mainstream for a long period. Some related production companies, who will continue to be innovative and progressive, need to take their own advantages in the production of crushing equipment in order to follow the development trend of this industry. With the prospects of construction industry, they should take every step cautiously to the road of success.