Artificial Sand Is Essential Raw Material for Building Industry
Date: Mar 12,2014
Sand maker plays more and more important role in mining machinery industry because the effect of sand and gravel materials is bigger and bigger. In addition to natural sand, the source of sand and aggregate is artificial sand which is produced and processed by mining machinery equipment. In the past, natural sand can basically supply the demand of construction. However, at present, due to the reasons of too long formation time of natural sand and too fast urbanization construction, natural sand can no longer meet the demand of construction industry. hence, artificial sand becomes the main source of raw material of current construction industry.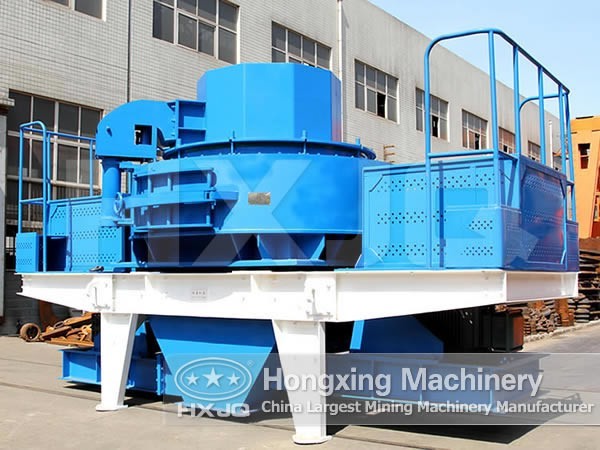 Artificial sand has various advantages over the natural sand.
1. The most significant advantage of artificial sand is short sand making time. Compared with accumulation over a long period time of natural sand, artificial sand has very fast sand making process, which can be produced in bulk. Let's take sand making production line of Hongxing Machinery as an example. After having purchased mechanical equipment used in sand making production line, technical staff of Hongxing Machinery can install these mechanical equipment on site. After debugging, sand making production line can be put into production. Its production can be adjusted according to customer demand.
2. Granularity and shape of artificial sand can be adjusted. By means of adjusting sand maker, customers can get the required granularity and grain shape, thus better satisfying production needs of building industry. however, there is no human intervention in the forming process of natural sand, so, the granularity and shape to be formed are uncertain, which need to be further shaped by sand maker. If the natural sand is directly put into production of building industry, the effect is worse than artificial sand.
Because of the popularization of artificial sand, sand making production line become more and more popular in recent years, so do the mechanical equipment used in production line. The main equipment used in the sand making production line of Hongxing Machinery are vibrating feeder, jaw crusher, fine jaw crusher, sand maker, vibrating screen, sand washer, etc. Hongxing Machinery can make some adjustment according to different demands of customers. If you have any problems, please feel free to contact us.