The crawler type mobile crushing plant is a mobile crushing and cutting machine with a fully hydraulically driven crawler type vehicle chassis that has been specially designed to meet the market demand and has a comprehensive domestic and foreign crusher technology, and has independently developed the main technical parameters for optimal design. Sub-equipment. Tracked mobile crushing plants are mainly used for metallurgy, chemical industry, building materials, and hydropower and other materials processing that often require relocation operations, especially for the operation of free flowing stone materials such as highways, railways, and hydropower projects. Users can use the types of processing materials. The scale and the requirements for finished product materials are different from each other in a variety of configurations. The mining industry, coal mines, and the cement industry have excavation sites where the hard materials are coarsely crushed. Recycling construction waste, earth and stone works, urban infrastructure, roads or construction sites, etc. Disposal of topsoil and other materials, separation of viscous aggregates, construction and blasting industries, sifting after quarrying, quarrying industry. Peeling crushing of cement concrete road reconstruction, and crushing of asphalt concrete materials before recycling. In order to better serve the city's construction waste disposal, Henan Hongxing first introduced the mobile crushing plant assembly equipment based on the research and development of broken crushing sand production line equipment for many years. The integrated integration unit facilitates the crushing of construction waste. Track-type hydraulic mobile crushing plant is widely used in road and bridge construction, urban construction, metallurgy, energy, and other departments, for crushing, screening and other operations, especially for open-pit coal mining. Our Henan Red Star regards quality as life and the user as God. We will do our best to care for you. We are convinced that service is the golden key to open the market. We know how to create maximum benefit!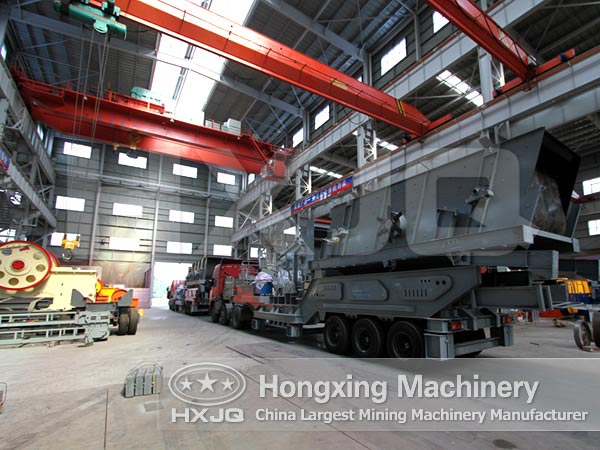 Crusher market mutation, tyre-type mobile crushing plant emerged.
Crushing site and broken material long-distance transport, so that the advantages of tire-type mobile crushing plant prominent; compact structure, small footprint, can be broken between the crushing, screening and other operations, flexible, flexibility to transition operations make tire-type mobile crushing plant by the majority of users.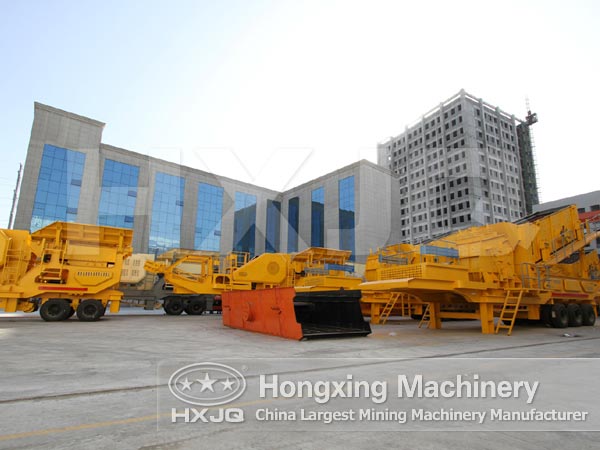 1. Mobile Crushing station is a large piece of material to be broken several times, according to the discharge specifications for screening machinery and equipment.
2. The production of the required material particles and production, mobile crusher complete sets of equipment, including primary crusher and two crushing screening station, belt conveyor and other components, all levels of crushing stations are an independent work unit, respectively, to complete different responsibilities.
3. Mobile crushing station used in the industry, including metallurgy, chemical, building materials, water and electricity and other frequent relocation operations of the material processing.
4. Also widely used in mining, coal, construction waste recycling, earth works, urban infrastructure, roads or construction sites and other occasions.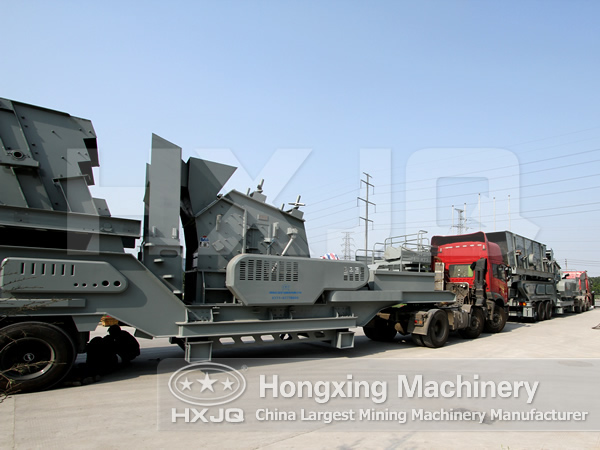 Tyre-type Mobile crusher can also be based on the nature of the user material differences, for customers to design different configurations to meet the diverse needs of customers.
The equipment such as cone type mobile crushing plant developed by Henan Hongxing was successfully applied in Shandong quarry and used in combination with the mobile jaw crushing station to form a perfect gravel processing system. The broken material is granite, and the large pieces of granite enter the mobile jaw crushing station for coarse crushing, and then it enters the conical crushing station for medium and fine crushing. The grindstones with specifications of 0-10mm, 10-20mm, and 20-40mm are processed. aggregate. Mobile crushing plant equipment uses a new structure to save fuel, fuel savings up to 25%. The whole process of the work is characterized by smooth discharge, reliable operation, convenient operation, and high efficiency and energy saving.