Sand Washer of Hongxing Machinery
Date: Dec 15,2016
Brief Introduction of Sand Washer
Hongxing Machinery is a professional sand washer manufacturer and its sand washer is designed according to the need of customers. Combined with the developed production knowledge and the usage practice at home and abroad, we design the HX series sand washer with the proper structure and high clarity, which is the best choice of upgrading in the domestic mining industry.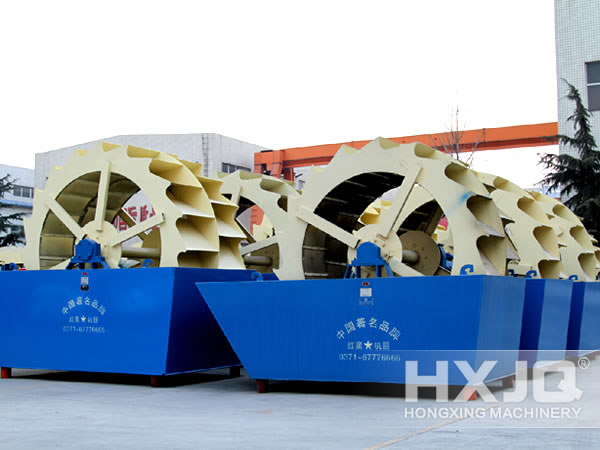 Working Principle of Sand Washer
The electrical machine drives the lobed wheel to make slow turning through triangular belt, deduction gears and wheel gear. The sand entering the wash trough will roll and grinding leaded by the vane wheel. This process will remove the impurity on the sand surface and break the water vapor layer for dehydration. At the same time, we need add water to bring out the foreign matter of the small amount. At last, the sand will be poured into the discharge chute from the rotating impeller.
Using with the sand maker, sand washer is wet type sand making equipment, which can improving the quality of sand by washing the mountain flour and impurity from the mixed sand. XZD series sand washer is a bucket wheel type washing equipment, mainly used in the washing, classification and dehydration of construction sites, sand and gravel plants, hydropower stations, and concrete dams.
Performance Feature of Sand Washer
1. Sand washer has advantages of the simple structure and stable property. The separation between the wheel bearing device and water largely avoids the broken phenomenon caused by soaking and pollutant.
2. Compared with the traditional spiral sand washer, this sand washer has obvious strengths.
a. little flow of medium-fine sand and mountain pour
b. no other vulnerable parts except for the screen
c. long usage life and no concern on repair
With the large number of models, long usage life and high quality, the sand washer in Hongxing machinery is your best choice. Purchasing email: sales@hxjq.com