Large Sized PE Jaw Crusher for Sale
Date: Sept 25,2015
Hongxing is a professional crusher equipment manufacturer with many years of production experience. Its products range covers jaw crusher, hammer crusher, cone crusher, vertical shaft impact crusher, sand making machine, sand washer, mobile crushing station, magnetic separator, flotation machine, pulverizer, dryer and etc.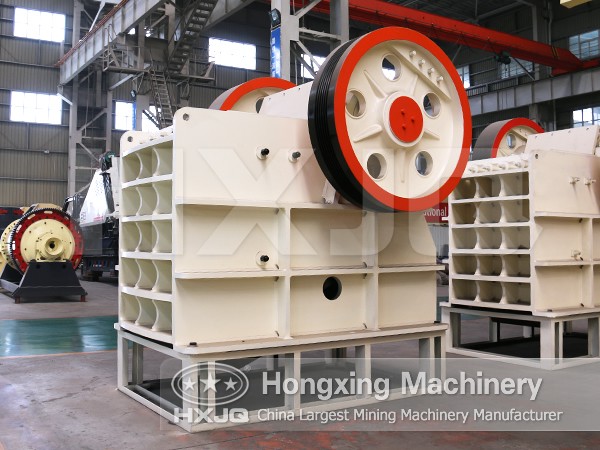 Till now, our products have been exported to Southeast Asia, the Middle East, Africa, Europe, South America and other regions. In recent years, with the implementation of the strategy of energy conservation and emission reduction in our country, Hongxing also begins to research new crusher equipment and has successfully created high efficiency sand making machine, large sized jaw crusher and a series of high-efficiency, low-emission and low-power-consumption mining equipment by making use of its own technology advantages and introducing advanced techniques.
Construction industry and mining industry continues to move on, as a consequence, large jaw crusher obtains a fast development, and more and more customers begin to focus on the large sized PE jaw crusher. The crushing ability of large sized PE jaw crusher is ever-increasing and now it can achieve 600 t/h. Its feeding size is required to be smaller than 1020 mm, and the discharging size ranges from 150 mm to 300 mm. Large sized jaw crusher is mainly used for crushing bulk materials, such as granite, basalt, cobblestone, quartz, marble, limestone, iron ore, etc.
Hongxing promises to provide you with the most reasonable large jaw crusher price. If you want to know more information of large sized PE jaw crusher, you are welcome at any time to contact us.