The Improved Roller Crusher Brings Surprise to Its Users
Date: Sept 09,2015
Roller crusher depends on the high-speed rotating tooth roller to break materials. Its components mainly include transmission gear, rack, crushing roller, mechanical spring mechanism, linkage, etc., with properties of simple structure and convenient maintenance. But it also has some shortcomings at the same time. According to the years of experience and by studying other similar crushing equipment, our company eventually makes the roller crusher more and more perfect in performance.
1. The improvement in feeding method
We give up the traditional material-distributing device, instead of adopting the hopper designed with unique structure and special material. It is mainly equipped with an arc structure on its bottom and adopts smooth wear-resisting polymer polyethylene plate, which not only ensure the materials moving to the sides, but also can avoid the materials falling into the tooth roller and causing offset grinding.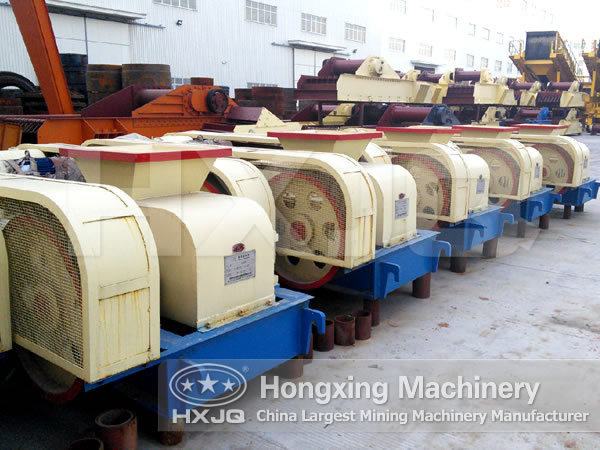 2. Super-high yield
The roller crusher after modified by our company can be up to 900t/h at most. It changes the situation depending on the imported equipment to raise yield. Through a long-term research, we find that when the screen mesh is bigger than 30 mm, despite how much water the material contains, sticking will not happen. Therefore, we combine roller crusher together with screen and develop out the new-type efficient roller crusher, making the yield improved obviously.
3. Hydraulic collision-avoiding system
We still conducted research on the hydraulic protection system, guaranteeing the discharging granularity not out of limits. When encountering with foreign matters or objects which are hard to break, the hydraulic protection system can keep the crushing roller off, so as to protect the tooth plate, bearings, shaft and so on. The pressure of hydraulic system can be adjusted according to the material properties.
4. Improving the bearing life
We has specially designed hydraulic tools for the installation and disassembly of the tooth plate, protecting the bearing against impact forces and greatly prolonging the bearing life.