What Crushing Effect Does the Impact Crusher Have on Lime Stones?
Date: Jul 17,2015
Lime stone is a kind of natural ore. By virtue of its features such as uniform lithology, wide distribution and easy to be exploited and processed, lime stone becomes a kind of very useful building material. Owing to lime stone contains silicon and is corrosive to other materials, as a result, it requires to be crushed by suitable crushing equipment. The impact crusher made by Hongxing Machinery is specially designed to crush lime stones.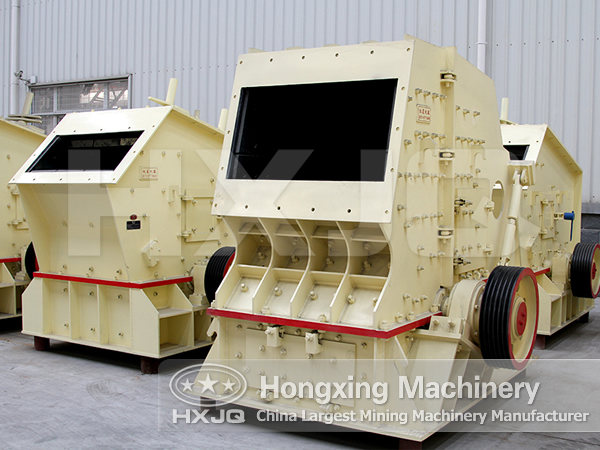 When the impact crusher is working, under the drive of the motor, the rotor rotates at a high speed. By then, materials enter into the hammer's action zone and collide with the hammers on the rotor, then the materials will be thrown to the counter-attack device for a secondary crushing and next to be rebound to hammer's action zone from the counter-attack plate to be crushed anew. This process will proceed repeatedly until the materials are broken into required particle size and exhausted from the discharge port.
Hongxing impact crusher is designed with unique structure and equipped with high chromium hammer, characteristic counter-attack plate and so on. It is made from excellent material resistant to abrasion and corrosion. Our impact crusher is capable of dealing with a great many of rocks and ores with the granularity not more than 500 mm and compressive strength less than 320 million mpa, widely applying to water and electricity, expressway, artificial aggregates, mining crushing and many other fields.
Henan Hongxing Mining Machinery Co., Ltd. is a well-known and large-scaled crushing equipment manufacturer in China. Over the years, our company has been committed to researching and developing various kinds of mining machinery. By making full use of the numerical control process technology and elaborately manufacturing every part, we finally achieve an ideal using effect for the mass users and gain a wide praises.