The Construction Waste Mobile Crushing Station Makes Good Use of Waste
Date: Ju 05,2015
Mobile crushing station, also called crawler mobile crushing station, generally includes mobile jaw crusher , mobile impact crusher, mobile cone crusher, mobile counterattack crusher, mobile screen station, crawler hydraulic-driving mobile station and rubber tyred mobile crushing station.
Mobile crushing station is characterized by the high performance crushing machine, vehicular motor integrating with control box, incorporate vehicle installation of vibrating screen, belt conveyor and crusher convenient to be stationed, and steering traction axis facilitating road transportation and going deep into the site.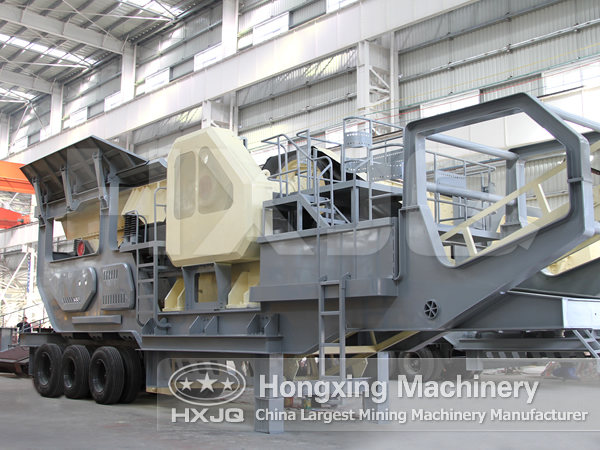 Outstanding Advantage:
1. Adjust mine mouth by jaw crusher hydraulic, fast and convenient to adjust the gap between the mouths.
2. Adopt the high-performance jaw crusher designed by three-dimensional and finite element analysis, suitable for crushing hard rocks and construction waste.
3. Adopt the standard flat car for transporting.
4. The feeder machine adopts a double-deck structure, convenient to removing soil and screening fine aggregates.
5. Use the most optimized power transmission, high efficiency and low power consumption.
6. Employ the self unloading iron remover.
Dealing With Construction Waste
Mobile crushing station has an excellent performance in processing construction. Due to the different processing materials, the tradition stone crushing technologies are not able to adapt to the current construction waste treatment yet. So compared with the ordinary ones, the current construction waste mobile crushing station is equipped with the dedicated crushing equipment for construction waste and new-type iron remover, completely separating concrete from reinforcing steel bars during the crushing process. In the running process, the iron remover picks the separated reinforcing steel bars out. The construction waste mobile crushing station finally turns the construction waste into renewable materials.