Crawler Mobile Crusher Gives Full Play to Its Performance
Date: Ja 14,2015
Crawler mobile crusher adopts a crawler type vehicle chassis, which is not affected by bad topographical conditions, and it can easily reach the crushing operation sites. Just like the rubber-tyred mobile crusher, crawler mobile crusher can also be in accordance with the requirements of production process to realize coarse crushing, medium and fine crushing stages as well as the crushing and screening system, which has high flexibility. Crawler mobile crusher can satisfy the needs of different customers on the basis of its multiple functions.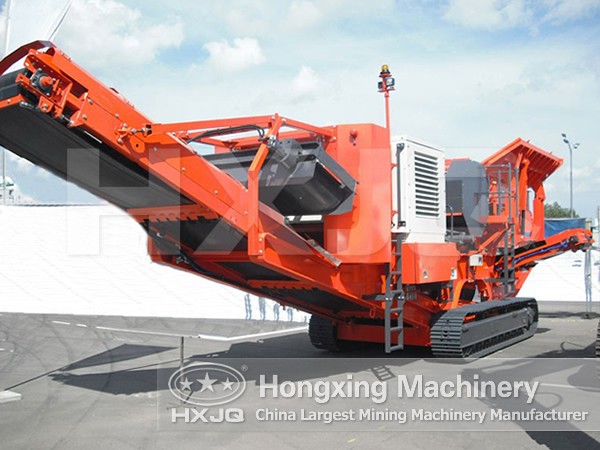 With all wheel drive, crawler mobile crusher can realize in-situ steering. It has safety protection function, which is especially suitable for narrow space and complex terrain area. All steel hull structure of the chassis has the advantages of high strength, low ground pressure, high adaptability to the mountain, etc. Mobile crusher has compact structure to maximally save the space. Flexible configuration can fully meet the diverse needs of customers. It has high crushing efficiency, scientific and reasonable design and stable operation. Each device consists of basic modules, each module has a rich alternative packages, so mobile crusher can be adjusted according to the special requirements for artificial aggregate processing system.
Crawler mobile crusher can be used in artificial aggregate processing system, which has excellent performance, high reliability, short length, small occupied area, light weight, strong mobility, less material transportation cost, strong adaptability, flexible combination, easy transport, short assembly time, simple operation, which can meet the strict environmental standards. Its good performance and maneuverability, as if that is tailored for highway engineering. Hongxing mobile crushing plant has complete varieties and specifications series, such as fine crushing plant, portable jaw crusher, mobile cone crusher, etc. If you want to know about mobile crusher price, please click our online customer service. Welcome to contact us!