Mobile Crusher Enters into a Time of Rapid Growth and Opportunity
Date: Sept 05,2014
In order to solve the garbage disposal problems in the city, Hongxing Machinery has successfully produced the special waste processing equipment--- mobile crushing plant, which is energy saving and environmental protection. At present, the domestic mobile crushing plant can be divided into rubber tyred mobile crusher and crawler mobile crusher. When compared with the latter one, the rubber tyred mobile crushing plant is not easy to damage the pavement, which can adapt to the complex conditions and save the transport costs of materials. It has combined the whole stone production line into one frame, which is convenient and flexible to reach any broken ground without the cumbersome pre installation.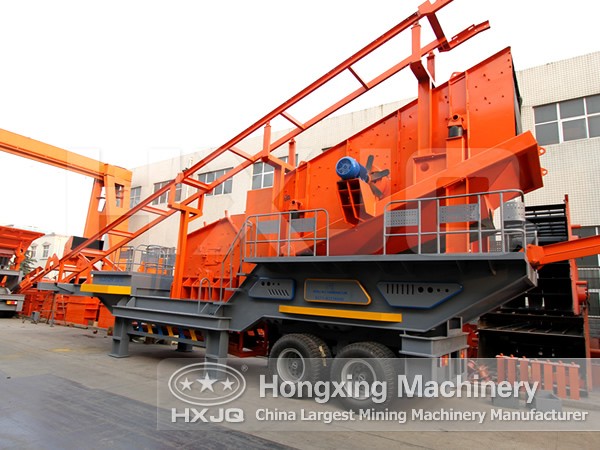 Mobile crushing plant is made up of multiple components, Hongxing Machinery has configured a practical and reasonable production line for customers according to the different materials and production tons. The maximized performance price ratio and customer benefit are the goals of our continuous efforts to keep innovation in the forefront of mining industry. We hope to provide a full range of services for domestic and foreign customers, which includes the design, installation, commissioning, technical guidance of the production line, visit, etc. Just take impact mobile crushing plant as an example, it is equipped with mobile host, tire frame, impact crusher, vibrating screen, feeder, conveyor belts, motors, control boxes and other equipment, which can easily crush pebbles, granite, basalt and other rocks into gravels with the required particle size. With its unique crushing ways, it can produce beautiful and uniform particles, and the finished gravel distribution is reasonable with low aggregate flakiness content to fully in line with the national standards, which is the best equipment for stone crushing line.
Hongxing Machinery is specialized in the research and development of mobile crushing plant, and we have recognized that only by achieving constant progress can we become outstanding in the market. So we can't remain stagnant, but constantly improve our technology. At the same time, energy saving and emission reduction are policies appealed by the society, we should upgrade the technology of mobile crushing plant with the target of energy saving and emission reduction. The rubber tyred mobile crusher has been successfully put into use, which will become the essential equipment of mining industry in the future!