The Environmental Benefits of Mobile Crushing Station
Date: Ju 19,2014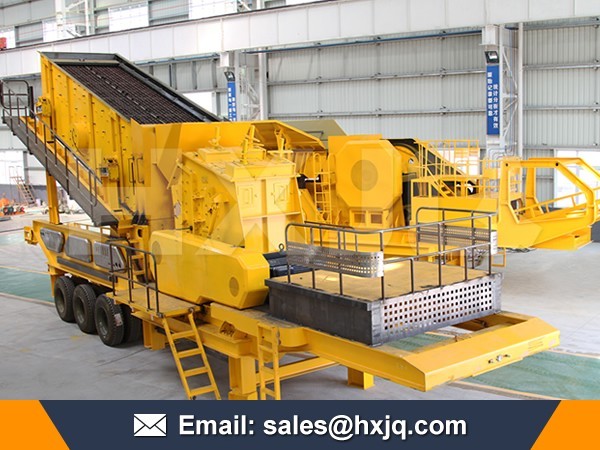 Nowadays, with the development of industrialization and urbanization, the mining machinery equipment, road construction and building construction is rapidly developed. Today our country is faced with three main problems: scarce resources, severe environmental pollution and degenerated ecological system. The inappropriate handling of tailings and wastes will bring great damage to environment and people's health.
The waste tailings can be raw materials of artificial sand making. By recycling waste tailings, 20.4 million tons sandstone can be produced every year. The mobile crusher station can achieve two benefits at the same time: on the one hand, it solves the environment pollution problems of waste tailings; on the other hand, it produced rich sandstone resources to satisfy market need.
Another benefit of tailings development is that the artificial sand is produced mechanically, and it has fixed worksite and mature organizational management. Besides, natural sand is not stable in performance, while, the artificial sand solves this problem perfectly and improves the comprehensive standard of whole sand industry. The mobile crusher station has supportive device on both ends of main bearing and can stand the crushing force and bigger stroke of iron ore. The unique crushing chamber is suitable for laminated principle, which makes the machine have a higher crushing efficiency. After upgradation, the crushing stroke, crushing speed and crushing chamber are combined together, so it has an efficiency 35%~60% higher than that of traditional crusher. The mobile crushing station solves the contradiction between output and fineness by adopting the laminated principle, making the cube shape rate of final products increase. The final products has little needle flake shaped stone, uniform granularity, stable output and can totally satisfy the market needs.
Hongxing mobile crushing station has features like big reduction ratio, even products granularity, simple structure, reliable performance, convenient maintenance and economical functioning, so it is very suitable to recycle tailings.