The Application of Wet Magnetic Separator in Ore Beneficiation
Date: Dec 04,2013
In practical production, the ores that go into the grinding mill may be mixed with large quantities of waste ores, which causes the ore dilution and reduces the feeding grade. This will not only increase the load of ball mills and the production cost of ore grinding, but increase the amount of fine tailings. To solve the ore dilution and improve the system ability of producing iron concentrate, on the basis of sufficient demonstration and experiment, Hongxing Machinery improves the part links of the current production process and adds a stage of wet magnetic coarse separation work before the fine products go into ball mills.
After the ores that go into ball mills are changed into coarse magnetic concentrate, the water content of the fed-in materials will be 20% higher than that of fine products, for this reason, if the feedwater quantity of the ball mill is not controlled, the first-stage grinding density will significantly decrease. To stabilize the first grinding density and ensure the product fineness, it is advisable to adopt the method of controlling the washing water for the return sand to ensure the grinding density.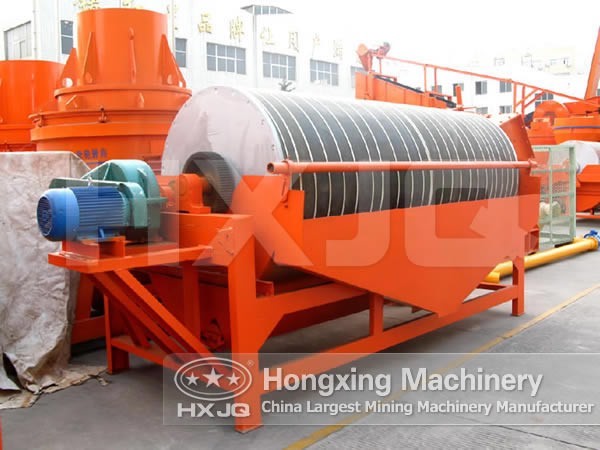 With wet type coarse magnetic separation, the grade of the iron ore that is fed into the milling equipment is improved by about 5%, and the production capacity of ore concentrate is improved by about 10%, thus great reducing the output of fine tailings and effectively reducing the production cost of the iron concentrate. In addition, it also solves the disposal problem of fine tailing sand, which is conducive to the balance of quarrying, ore beneficiation and filling ability and realize zero-waste and clean production.
On the other hand, there are still many other problems that need your attention in the coarse-particle magnetic separation technology:
(1) Timely learn the property change of the fine particles to avoid fierce fluctuation of the grade of the crude ores.
(2) As the feeding granularity of the wet type coarse magnetic separation is coarse, the abrasion of the cylinder surface and the chute of the magnetic separator is fast, for this reason, the cylinder can adopt wear-resisting ceramics paster to prolong the service life of the cylinder, and it is necessary to pay attention the abrasion condition of the equipment.
(3) The magnetic tail screening equipment adopts stick linear vibrating screen with bad screening effect, thus influencing the stability of the whole system. Then we can choose high frequency screen and polychlorostyrene ester screen net, which can not only improve the screening effect, but significantly extend the service life of the screen net.