High-energy Jaw Crusher Is New Crushing Tool of Hard Rocks
Date: Ja 09,2014
With the further development of modern industry and mining exploration industry, the applications of crusher machines are more and more common. We all know that the hardness of raw ores exploited from mine blasting, which causes serious abrasion of crushers, which virtually increases investment costs and influences smooth and continuous production.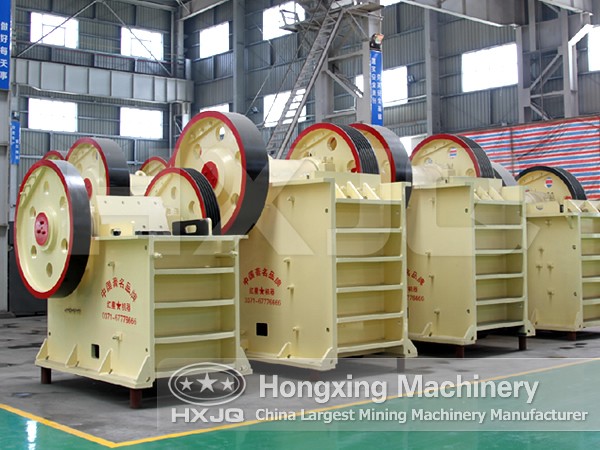 In view of the crushing problem of large and hard rocks, Hongxing Machinery has launched modernized high-energy jaw crusher that combines low energy consumption and high productivity based on the design concepts of high input and output and according to actual requirements of customer jobsites.
Compared with traditional jaw crushing machine, the high-energy jaw crusher has precisely optimized the overall structure, moving jaw movement, cavity type and so on, which greatly improves yield and stability. Besides, this equipment is equipped with forging eccentric shaft, large bearing, E-frame, labyrinth seal and other high-quality spare parts, which makes the machine more durable and reliable. Even in the face of basalt, granite, quartzite and other high hardness of rocks, High-energy jaw crusher can crush them to medium granularity at a time and reduce pressure and abrasion of secondary and tertiary crushing equipment, which effectively reduces production cost. It's undoubtedly the best commitment and guarantee for customers.
In addition to crushing of building field and artificial sand production, the high-energy jaw crusher also performances well in black and non-ferrous metal ore beneficiation field and crushing plant in China. According to introduction of experts from Hongxing Machinery, high-energy jaw crusher machine can take full advantage of its super strong crushing ability to effectively reduce granularity of raw ores and realize more crushing and less grinding, which reduces grinding pressure and improves production capacity and efficiency of the whole production line, thus greatly economic benefits of ore dressing plant. It can be predicted that the high-energy jaw crusher will replace traditional jaw crusher and become the new favorite of metal and non-metal mine crushing fields. For more details of high-energy jaw crusher, please click online customer service, we will provide you with professional service.