Regular Maintenance Enhances Productivity of Jaw Crusher
Date: Ja 01,2014
Jaw crushing machine is a kind of commonly used crushing equipment, which is widely used in the crushing of stone and gravels, which plays a larger role in China's construction industry. the working environment of jaw crusher is generally in the outdoors, which is easy to cause wear of equipment. So, the operators should do a good job of daily maintenance, which can not only enhance productivity of jaw rock crusher, but also extend its service life. Here, let's explain it in detail.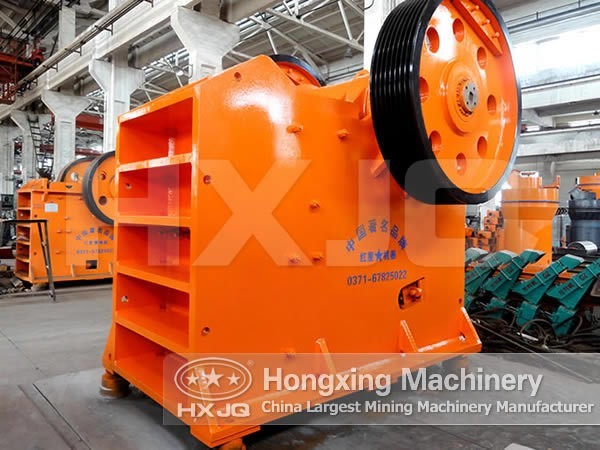 1. Regularly check jaw crushing equipment.
When starting up or stopping any stone crushing machines, we should pay attention to the inside abrasion of machine. At the time of repair, be sure to check the wearing parts of rock jaw crusher. When the wearing parts reach maximum wear-resisting degree, we must timely replace them.
2. Do a good lubricating job of jaw crusher parts.
To do a good lubricating job of friction surface timely can ensure normal operation and extend service life of jaw crusher machine. The lubricating grease should be selected according to place of use, temperature and other conditions, which should be replaced every three months. When replacing new oil, we should use clean petrol or kerosene to clean the dirt between bearing and bearing block. Besides, we should also add lubricating grease to the contact point of toggle plate and toggle plate pad before starting machine.
3. Regularly check the condition of jaw crusher parts.
The conveyor belt of jaw crusher is the necessary part in the stone production line. Hence, we should regularly adjust tightness of conveyor belt and ensure it receive strength evenly. In addition, the bearing of jaw crusher plant wears a lot in the using process, regularly add lubricating oil can prolong its service life.
Maintenance and upkeep makes jaw crusher work efficiently and prolong its service life accordingly, which saves production costs and create more economic benefits for users. As it turns out that the jaw crushing equipment produced by Hongxing Machinery is not only highly efficient, but also energy-saving and environmental protection. For more information about jaw crusher, impact crusher, cone crusher and other crushing machines, please visit our website: http://www.crushing-mill.com.