Several Suggestions on the Fair Use of Jaw Crusher
Date: Mar 11,2014
Fair use of jaw crusher can extend its service life, improve its working efficiency and reduce the running cost. Then how to fairly use this crusher machine in the actual operation process? The followings are several suggestions on the fair use of jaw crusher machine provided by Hongxing Machinery.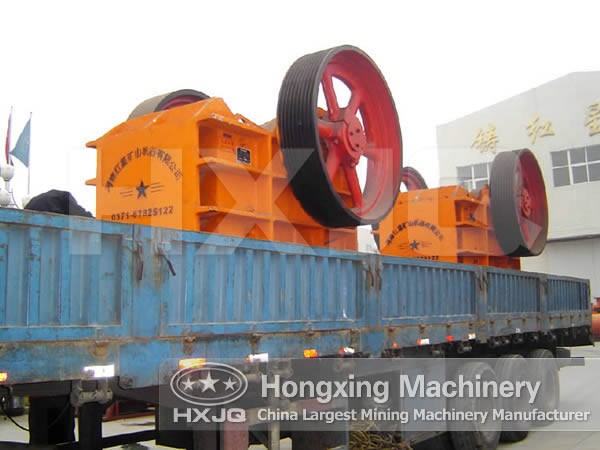 1. Precisely select a jaw crusher machine according the specific working condition.
The working environment of primary jaw crusher is very severe and this crusher machine has big crushing ratio, making it able to crush various materials with above medium hardness. In the actual operation process, customers should choose the suitable model of crushing machine according to the specific working condition. For crushing materials with high hardness such as marble and limestone, primary crushers with high parameters will be suitable; for crushing materials with below medium hardness, primary jaw crusher with small size or low parameters will be suitable, thus reducing running cost and ensuring its service life.
2. Make sure the self-protective device effective in the running process.
After visiting the Research Department of Hongxing Machinery, we learn that jaw crushing machine has three types of self-protection devices: toggle plate, hydraulic connecting rod and hydraulic clutch. Before starting the machine, it is necessary to check whether the relevant protection device is normal and check the abrasion condition of the toggle plate. If it is seriously abraded, timely change it. Check the connection of all the parts of hydraulic connecting rod and electricity of the hydraulic clutch.
3. Strengthen equipment maintenance and avoid overloaded operation.
Regularly maintain the crusher equipment can extend its service life. The daily maintenance of jaw breaker machine includes examination, lubrication, cleanness and repair. In addition, pay special attention to avoid overloaded operation of the crushing equipment.
The above are several suggestions on fair use of jaw crushing machine, which should be paid attention to in the daily operation process to reach the designed service life of the equipment and create more economic benefits for the company.