Practical Measures Used to Solve Breakdowns of Impact Crusher
Date: Ja 03,2014
Impact crusher is a kind of new and highly efficient crushing equipment, which has such features as small size, simple structure, big reduction ratio, low energy consumption, big production capacity, even product granularity and so on, which is widely used in the crushing of various mineral ores in chemistry, building and other industries. However, due to various reasons, impact crusher machine will appear faults and problems because of the differences of nature of crushed materials, working environment, the characteristics of the machine itself and so on. Actually, These problems can be avoided by preventive measures or regular check of impact crusher spare parts.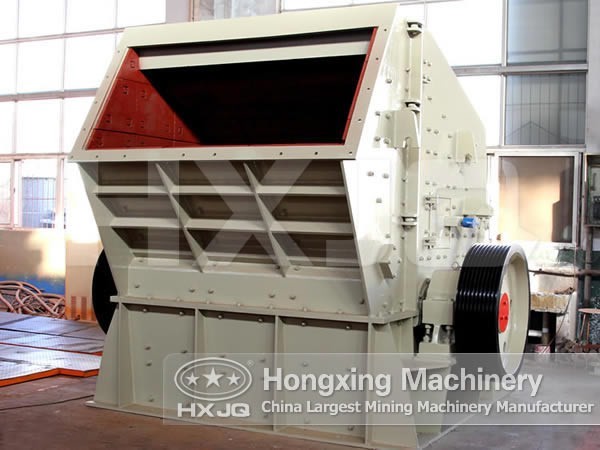 Good state of equipment is the premise and guarantee of safe production. When equipment arises problems, the impact crusher manufacturers must timely analyze the reasons for problems and rapidly solve them. Based on many years of production experiences, Hongxing Machinery has summarized some common faults, reasons and handling methods of impact crushers.
a. The materials are too big, you can check the feeding size.
b. The abrasion is uneven, you should replace the hammerhead.
c. The rotor is imbalanced, which should be adjusted.
d. The base is handle improperly, you should check the foundation bolts and reinforce them.
2. The Bearing of impact machine is heating.
a. The bearing is lack of oil, which should be refueled timely. Of course, too much oil will also cause bearing heating. So, be sure to check the oil level when refueling.
b. The bearing is damaged, which should be replaced timely.
c. The upper cover is too tight, which need to adjust the bolts and make the degree of tightness proper.
3. The discharging granularity of impact crusher is too big.
a. The hammerhead is worn, which should be replaced.
b. The clearance between hammerhead and impact plate is too big, which should be 15 to 20 mm.
c. The feeding granularity is too big, which will also affect the discharging granularity.
4. The belt of impact crusher is flipped.
a. The belt is worn, which needs to be replaced.
b. The assembly problem of belt. You need to adjust the belt pulley to the same plane.
c. Pay attention to the quality of V-belt.