How to Improve and Adjust Impact Crusher?
Date: Ju 08,2014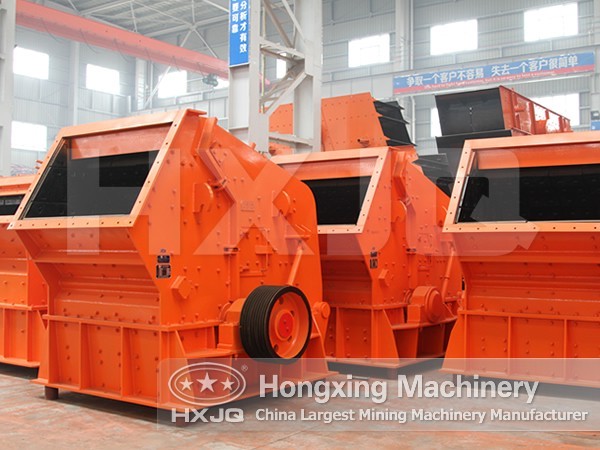 Crusher equipment occupies an important position in the market, and with the rapid development of engineer construction, the crushing equipment is in greater and greater demand. Faced with this situation, Hongxing Machinery keeps improving and adjusting the crushing performance of impact crusher and enhancing its sand rate. Hongxing Machinery invests a lot of energy and capital in its improvement.
In order to improve its crushing performance, Hongxing Machinery makes some innovations in some aspects. In the aspect of material handling, the material enters machine from feeding mouth and slides downwards along sieve plate. So the materials on screen are crushed by the hard alloy hammer head which is rotating rapidly. Then the materials will get the second crushing by striking impact plate. These materials will be crushed again and again through striking between materials and impact plate and materials. Some materials will be discharged to the second crushing chamber after being crushed to a certain granularity in the first crushing chamber. They will be discharged through discharging mouth after their granularity reaches a certain degree.
Besides, it is very necessary to regulate the impact plate of impact crusher. The impact plate regulating system can be functioned as the overloading protection device of the whole machine, in avoid of some foreign or uncrushable materials entering into crushing chamber and bringing damage to it. In addition, this crusher adopts multi-stage impact cavity, making it have enough crushing space and suitable for large sized materials. The angle of the impact plate can be regulated according to our needs, in order to guarantee a suitable angle between impact plate and rotor. This can improve its crushing efficiency and reduce energy consumption during multi-stage crushing.
Hongxing Machinery is a leading manufacturer in impact crusher production. If you have any question about it, please contact us. we will provide you with the most detailed instructions.