High-efficiency Spring Cone Crusher is Exclusive to Produce Cement
Date: Sept 25,2013
Cement can be said to be one of the most important building materials for social and economic development, and in the coming decades and even a hundred year, it will remain a kind of irreplaceable basic material. China is a big country of producing and consuming cement, and ever since 1985, the yield of cement of our country has ranked first in the world. For a long period of time in the future, the output of cement will continue to increase. The fast development of cement also drives the development of mining companies, and the high-efficiency spring cone crusher of Hongxing Machinery is exclusive to produce cement.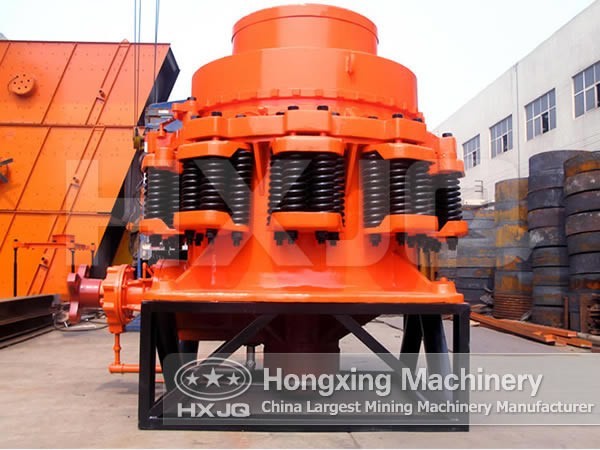 Hongxing CS cone crusher is widely used in the production of building stone and artificial sand, especially when crushing hard materials such as basalt, it has high efficiency and low production cost, and the crushed materials has good particle shape and high quality. It has the following performance features:
(1) High performance and good combination of product particles
(2) Good stability and high reliability
(3) Convenient maintenance and simple operation
(4) Low production cost and wide application.
When cone crusher begins to work, the electro motor drives the eccentric sleeve through the spring coupling, drive shaft and a pair of angle gear, so that the crushing wall of cone crusher gets close to and then gets away from the surface of the rolling mortar wall fixed on the adjusting sleeve, and the ores inside the crushing chamber will be constantly impacted, squeezed and bent to be crushed.