How Can Improve Crushing Capacity of Multi-cylinder Compound Crusher?
Date: Ja 16,2014
After many years of development, the production technology of domestic mining machinery industry is continuously improved and upgraded. The development of compound crusher is especially rapid. Various new products have been launched on market. Multi-cylinder compound crusher is one of these new kinds. Multi-cylinder compound crusher is a new type of effective crusher machine, which is particularly suitable for crushing hard stones. Nowadays, the multi-cylinder compound crusher has replaced traditional compound crusher and becomes new favorite of crusher market. For improving crushing capacity of multi-cylinder compound crusher, Hongxing Machinery, the famous compound cone crusher manufacturer, has effective methods.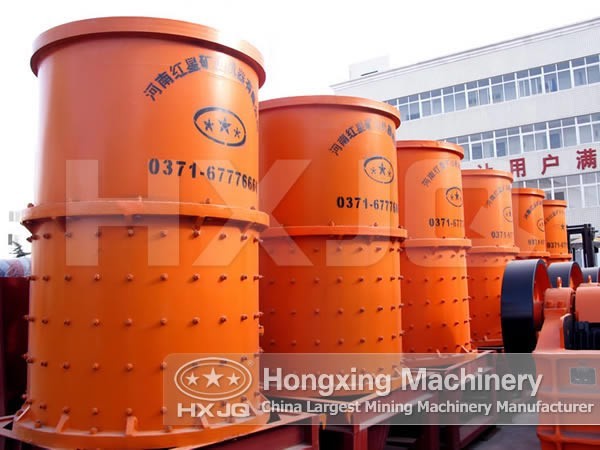 1. Equip with buffer silo equipment
Because compound crusher adopts laminating crushing principle, so, it needs a large inventory. Therefore, when installing and using this machine, the customers should equip with buffer silo to ensure continuous feeding. Supply of equipment should be accurate, adjustable and controllable.
2. Install frequency conversion feeding equipment
The frequency conversion feeding equipment can ensure stable and all room feeding.
3. Install central feeding device
The feeding and discharging of compound crusher is very important, which can even affect its crushing efficiency and service life. The customers can equip with a central feeding equipment to ensure the central feeding. The discharging equipment should be kept smooth.
4. Install iron removal device.
The iron removal device can effectively prevent damage to equipment.
When debugging machines, it's important to ensure that the crushing cavity is in proper position. because the discharging port of compound crusher cannot determine the granularity of finished products. Only by all of these above can we trully improve the crushing capacity of multi-cylinder compound crusher.